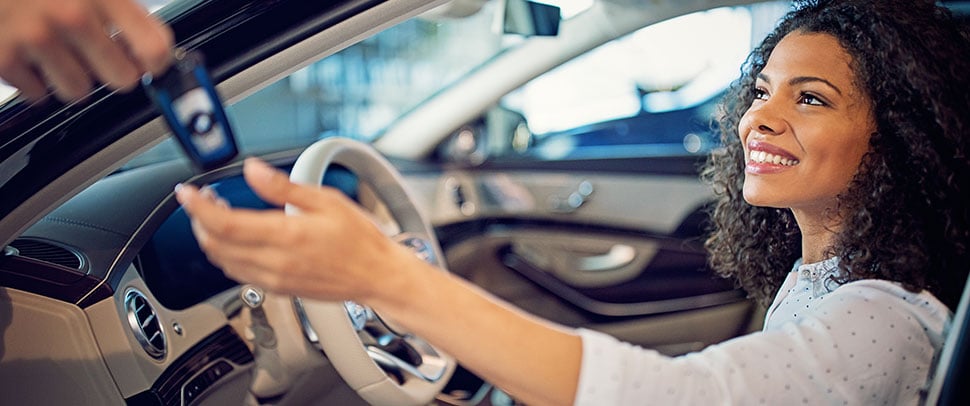 So, you've decided it's time to get a new set of wheels! You probably can't wait to find the car of your dreams – maybe with leather seats, Wifi hot spot, rocking sound system, and that wonderful new car smell! Or maybe you're looking to save money with a "new-to-you" vehicle. As a conscientious shopper, you're likely to spend hours poring over your choices, finding the right model for your lifestyle.
Also as a conscientious shopper, you'll want to know these four important numbers before you start shopping so you can get the car you want at a price you can comfortably afford.
Know your credit score. Usually, the higher your credit score, the better the rate on the auto loan you'll be able to secure. If your score could use improvement, take steps in the months before buying a car to raise that score. If your score is on the line between great and not-so-great, don't apply for new loans or credit cards before financing a new car as that will affect your score. Learn more about credit scores here.
Know what you can afford. Take a hard look at your finances to determine what your budget can accommodate. While you may be able to "afford" monthly payments for an expensive car over the life of a loan, remember there are other costs associated with car ownership. Taxes, insurance, registration, gas mileage, and maintenance and repair expenses all contribute to the overall cost of a owning a car. Talk with your insurance agent before you shop to find out how much it will cost to insure the models you're considering. Use our interactive budgeting tool to figure out what you can comfortably afford.
Know the value of the car you're considering. Whether you're going to buy a new or used car, research prices before you go. This will help you know whether the asking price is in line with the market. Kelley Blue Book and other online resources can help you compare prices for new and used cars. Shop around to find the car at the right price for you.
Know the interest rate you will pay before you make an offer. The interest rate will determine the overall cost of the loan, affecting your monthly payments. One way to know the rate you'll pay is to line up financing with your credit union or bank in advance. SAFE Credit Union members can apply for a loan before heading to the dealership. This step will help you better understand what your payments will be and the overall expense of the loan so you will not be surprised. Learn more about SAFE auto lending here.
To learn more about SAFE Credit Union auto loans, please visit www.safecu.org, visit one of our branches, or call a helpful SAFE representative at (800) SEE-SAFE.