While most of my friends and family rue the end of summer, I welcome it with open arms. As a Bay Area transplant, I question if I'll ever get used to the Sacramento heat, so the start of fall is something I actively choose to celebrate.
Since moving here, it's become a family tradition to kick off fall by visiting Apple Hill during its opening weekend – usually held over Labor Day. We've visited several of the nearly 100 Apple Hill Growers but our family's favorite is High Hill Ranch. This is a snapshot of our annual pilgrimage up Highway 50:
Get up early … sometimes painfully early, though it's totally worth it
Pack up the car and triple check we have all the baby gear
Stop for coffee (it's a necessity)
Enjoy the short and scenic drive to High Hill Ranch
Park in the ranch's beautiful tree grove, which isn't crazy busy – yet
Make a beeline to the main store on the property, where they sell fresh produce and just about anything apple you can think of
Immediately get in line for piping-hot apple donuts, which reignites the ongoing debate on which variety is best – I vote crumb, my husband votes glazed
Munch on our doughnuts while our daughter runs around the ranch's pond and watches the resident ducks
Shop the craft fair and the cute décor boutique at the front of the property
Pick up a fresh-baked pie to freeze and enjoy later in the season
At this point, our daughter is usually more than ready for a nap, so we head back to the car. Hopefully this year she'll have a bit more staying power so we can add a tractor hayride or a pony ride to our itinerary. Before baby, we also stopped by the wine tasting room, but that's currently out of rotation.
The best part is that this family outing is actually really affordable. Everything at the ranch is reasonably priced and, if we do thoughtfully splurge, we love that we're supporting a local business or artisan.
Although we've visited a handful of other great Apple Hill farms, there are literally dozens more we haven't explored. Which have you visited? Share your Apple Hill recommendations below.
Happy (Almost) Fall!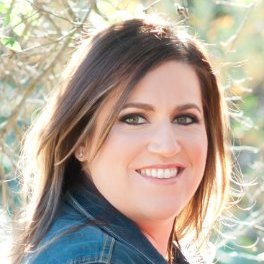 Gina Jacobs
Gina Jacobs loves to write – which is why she's been doing it professionally for more than a decade. As the work team lead of the SAFE Credit Union communications team, she helps shapes all internal and external marketing efforts. She spends her free time chasing after her rambunctious toddler and Shih Tzu. Her husband of seven years also keeps her on her toes.