Last year – well, technically this year, just a few days after New Year's Eve – while my husband and I were wrangling all our Christmas décor back into storage boxes, I commented that it felt like all the wreathes, garlands, candles, and ornaments were up for a nanosecond. The holiday season just flew by.
Like many busy parents, we got so caught up in our holiday to-do list that we didn't consciously stop to make family memories along the way. Well, that's not happening this year. I'm proud to say that my Christmas cards are about to be ordered (some Photoshop magic is being worked), my gift list has been checked twice, and shopping is well underway. So there should be plenty of time to work in some fun and festive holiday outings to delight our daughter (and us, who am I kidding?).
I've been researching options and below is a selection of local activities we're considering to ensure this is a magical holiday season. If you have a recommendation for another holiday event, please don't hesitate to suggest it in the comments!
---
FREE
Location: K Street, Old Sacramento
Dates: Thursday – Sunday evenings after Thanksgiving through Christmas Eve
Times: Performances at 6 and 7:30 p.m.; additional showings the week of Christmas
Tickets: n/a
See Old Sacramento in a whole new light! Well, 100,000 lights, actually. In addition to the rooftop lighting, the buildings' facades will come to life with projections of wintery scenes as performers act out 'Twas the Night Before Christmas. Don't be surprised if Jack Frost makes an appearance and definitely don't duck out early – Father Christmas stops by nightly to light Old Sacramento's towering Christmas tree.
---
$
Winter Wonderland at Fairytale Town
Location: Fairytale Town, Land Park, Sacramento
Dates: Saturday, Dec. 9, Sunday, Dec. 10, Saturday, Dec. 16, and Sunday, Dec. 17
Times: 1 to 7 p.m.
Tickets: Purchase here; discounts available for Fairytale Town members
Now's your chance to meet the Grinch! Fairytale Town (temporarily, Who-ville!) will be festively trimmed and feature a dazzling display of lights, starting at dusk each night. Enjoy Dr. Seuss and Grinch-themed activities throughout the event, listen to strolling carolers, and shop for gifts from local vendors. The best part is that it snows nightly at 7 p.m. – and you don't even need to drive to Tahoe!
---
$$
Location: Cal Expo, Sacramento
Dates: Select evenings from Nov. 11 to Jan. 7
Times: Vary; please refer to event calendar
Tickets: Purchase here
Global Winter Wonderland is a spectacular holiday festival that allows you to "travel the world in just one night!" Take in stunning, fully illuminated landscapes from around the globe, enjoy stage entertainers – including Circus of Light – and taste delicious international cuisine. Looking for more of a thrill? There also is a full carnival with rides for all ages, plus an ice rink. And don't forget to get pictures with Santa!
---
$$$
Location: 400 N. Harbor Blvd, West Sacramento
Dates: Friday, Saturdays, and Sundays from Nov. 24 through Dec. 23; no departures on Christmas Eve
Times: Vary; please refer to ticket page
Tickets: Coach and first class ticket options available; purchase here
NOTE: Tickets to this event are selling fast; select dates are sold out. If you're interested in booking seats, don't delay!
Hop aboard for 90 minutes of nonstop holiday entertainment! The main event is an interactive show based on the book "Morgan and the Magical Christmas Train" by local author, Shell Hart, but it doesn't stop there. As the train moseys down the track, sip hot cocoa out of your souvenir mug, nibble on a cookie (or two), sing carols, play reindeer games, and more. And, of course, each kiddo gets a few private moments with Santa.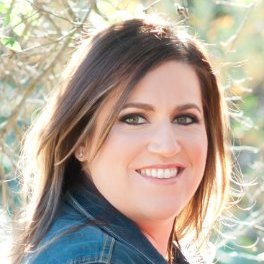 Gina Jacobs
Gina Jacobs loves to write – which is why she's been doing it professionally for more than a decade. As the work team lead of the SAFE Credit Union communications team, she helps shapes all internal and external marketing efforts. She spends her free time chasing after her rambunctious toddler and Shih Tzu. Her husband of seven years also keeps her on her toes.