I want to talk directly to employers for a minute. I know you're busy, so I'll get right to the point.
Your employees want financial well-being benefits that go beyond retirement savings plans and matches, bonuses, and raises. They love all those things, but they also want additional benefits from you that help them better manage their personal finances such info on how to starting emergency savings, debt management, and homebuying.
You want those benefits too, and here's why. According to the 2023 Brightplan Wellness Barometer Survey, a stunning 92% of employees surveyed are stressed about their finances. That's nearly everyone. And that stress will wear on your company's bottom line as stressed-out employees can lose up to an entire day of work each week as they cope with their financial anxieties.
SAFE can help you help your employees.
Our Workplace Financial Wellness program provides the tools and resources your employees need to learn ways to better manage their finances that brings them peace of mind and you a happier workforce. And all of this is at no cost to you or your employees.
SAFE provides this service as part of the credit union mission of helping people. We have financial experts and certified financial educators ready to work directly with your teams to provide quality information that your employees can use to create savings plans, create budgets, better manage their debt, prepare for retirement, and so much more.
No matter an employee's income, background, gender, or age, anyone and everyone benefits when they improve their financial wellness. However, some underserved groups trail behind in financial security, according to a Bank of America study. Tailored programs that speak to their needs and experiences can go a long way in showing your employees you value them.
49% of White/Caucasian employees feel financially well
37% of Asian employees feel financially well
33% of Hispanic/Latino employees feel financially well
32% of Black/African American employees feel financially well
Here's how the Workplace Financial Wellness program can help you and your employees.
Financial Wellness Tools
On-demand learning modules on topics ranging from savings tactics, debt management, home-buying to preparing for retirement.
Budgeting tools that help people better track their income, expenses, and assets to use their money wisely.
Interactive resources that improve learning.
Financial Education Access
Online and in-person financial learning sessions on a variety of topics provided by our certified financial educators.
Support at Employee Resource Events
Civic engagement activities, chambers, associations, etc.
New employee orientations
Health and wellness fairs (financial education)
Volunteer Support
SAFE partners with nonprofit organizations by encouraging SAFE employees to volunteer to help organizations serve the community.
Contact our Community Development Team today to learn more about how SAFE can bring more financial peace of mind to your employees and make your company an employer of choice.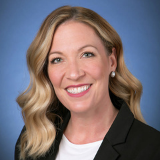 Rebecca Delmundo
Rebecca is AVP of Community Relations here at SAFE. She is a steadfast credit union advocate and is passionate about helping individuals achieve financial confidence.