I love making money. And I really love making money when I don't have to do much for it. And believe it or not, I get paid when I buy groceries. I get paid when I buy gifts. I get paid when my streaming services auto-renew. When I use my SAFE Credit Union Cash Rewards Visa® Credit Card, I get paid for all my new purchases.
There are a lot of credit cards on the market to choose from. Some don't offer any rewards...even in 2020; c'mon! But I also care about protecting my credit, so I'm careful about which cards I choose to apply for and use. The reason my SAFE Cash Rewards Credit Card is the one I use the most is that I think it's the best rewards card for me. Most cards stop at 1% cash back. That's just where the SAFE Cash Rewards Credit Card starts. With occasional offers that can earn me up to 10% cash back (yeah, you read that right!), I earn the most rewards with my SAFE Cash Rewards Credit Card.
Plus, as a SAFE member, I have access to all the perks of SAFE membership such as lower auto loan and mortgage rates, higher dividends on savings, and an easy-to-use Mobile App and Online Banking. I can even turn my Cash Rewards Credit Card on and off and set travel alerts on my account with just a few taps on my phone.
How to make money with the Cash Rewards Credit Card
Earn 5% cash back on purchases in a rotating category you choose every quarter.
Previous categories have included wholesale clubs, drugstores, streaming services, and even Amazon.com.* These are places, services, and stores I use or shop at! It truly pays to shop at my favorite places.
Earn 3% cash back on purchases at grocery stores, fuel pumps, and restaurants.
There's never been a more important time to support our local restaurants. When I order food delivery from my favorite restaurant, I'm helping keep their doors open while making some extra cash from my SAFE Cash Rewards Credit Card. It's a win-win! Plus I get a great meal out of it.
Earn 1% cash back on all other purchases.
And still, after all of that, all the other purchases I make still earn me money. Pet store, vehicle insurance, utility bills — you get the idea — I get cash back.
Other surprise opportunities
In addition to making money when I use my SAFE Cash Rewards Credit Card on new purchases, SAFE occasionally offers great chances to earn more!
10% cash back on Amazon Prime Day.
During Amazon Prime Day, I earned 10% on all of my Amazon purchases. I was able to complete some of my holiday shopping, treat myself, and earn a whole bunch of cash back, too!
10% cash back on the Big Day of Giving.
During the Big Day of Giving 2020, all donations I made to regional Sacramento charities and nonprofits, plus the Go Fund Me's I supported, earned 10% cash back. I helped my community and made some money, too!
Worried about your credit? Don't be!
If you're ready to apply, it's easy. But if your credit isn't as perfect as you'd want it to be, we've got you covered: we also offer the SAFE Cash Rewards Secured Credit Cards. Providing all the same great rewards and benefits as our regular Cash Rewards Credit Card, the secured card is a useful way to build, rebuild, or establish credit history. And our secured cards are available to open with limits as low as $300.
Ready to start making money while you shop? Apply for a SAFE Cash Rewards Credit Card today!
* Eligible Amazon purchases exclude subscription and subsidiary services including but not limited to: Amazon Prime Membership Renewal, Audible, Amazon Pantry, and Kindle.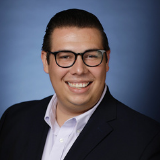 James Richie
James is the Senior Debit & Credit Card Product Manager at SAFE CU and has served credit unions since 2013. He strives to provide great payment experiences that reward SAFE cardholders for their loyalty. James serves on several regional nonprofit boards and is passionate about elevating his community.