This year more than ever, we are aware that our buying decisions have a direct impact in our communities. You're not just buying a thing, you're supporting a business. You could even say you're investing in your own future—by supporting businesses you really want to be there in the years to come.
As we see more and more small businesses and beloved restaurants shuttering for good, it is clear that these investments, no matter the size, are incredibly valuable, and that each of our seemingly small buying decisions adds up to a very powerful whole.
Everyone's priorities, choices, and hearts point them to different businesses that may need support. These businesses are the pillars of our community, the places we rely on to be there, to employ our neighbors, to support the local Little League. They're where we go for a special gift, retail therapy, or a fun activity.
I chose eight local businesses to highlight in this gift guide, but we know there are many more. Follow us on Instagram and Facebook and tell us which local businesses you love investing in by choosing to shop there.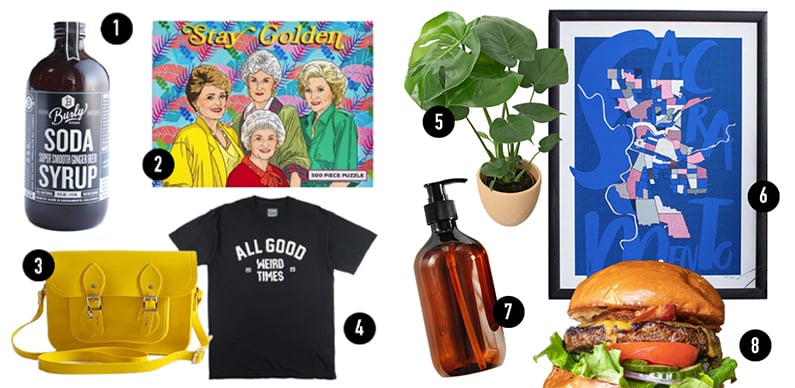 1. Burly Beverages
Based here in Sacramento, Burly makes craft, small batch, natural soda syrups, soft drinks, shrubs, and old-timey switchels, which they sell at local retailers such as Raleys, in their Del Paso Heights tasting room, or at local fairs, festivals, and farmers markets.
I bought Burly's Super Smooth Ginger Beer Syrup, which is the foundation of a great cocktail, $23.95.
2. Strapping Store

With two locations, one in Oak Park's Triangle District and the other in Midtown Sacramento, Strapping is packed with amazing gift ideas for anyone on your list, including the dog. There was someone I would like to thank for being a friend, so I purchased the Golden Girls 500-piece Puzzle, $28.
3. Together
Located on 24th between I and J streets, this charming shop brings together several retailers under one roof, creating a fun shopping experience. I was excited to find the brightly colored Cambridge Satchel, vegan, made with 100% recycled PVC, and cute as heck, from one of those retailers, Purpose Midtown, on sale at $73.50.
4. All Good
You've seen their All Good, Never Better shirts around town. This outdoor lifestyle brand has a store in the Ice Blocks (on R Street), and a store in Portland. I shopped their online store and found the exact perfect shirt for these times: All Good - Weird Times, black T-shirt, by All Gxxd $32
5. Public Land

Tucked away off Broadway in Curtis Park, this absolute gem of a store showcases stunning art and equally stunning tropical plants and cacti. You'll feel like you're entering a secret oasis. I have my eye on this Monstera deliciosa, $92, in-store pickup only. But, keep an open mind. Who knows—you might get there and find there's a cactus calling your name!
6. Kitchen Table Sacramento

Whether you're an avid chef or just enjoy hanging around the kitchen, there are gifts aplenty in this East Sacramento boutique. Stopping in at Kitchen Table has been a new tradition when holiday shopping—they do it up right, and they set up gorgeous vignettes that tempt and inspire. One thing I always love finding there is Sacramento-related artwork, so this year I will be gifting this beautiful Left My Heart in Sacramento art print, $45 (unframed).
7. Refill Madness

Conveniently located just off the I-80 freeway, near the Natural Foods Co-op, you'll find Refill Madness, where you can bring your own empty containers and fill them with eco-friendly soap, lotion, hand sanitizer, or one of many other cleansers or detergents (prices vary). I'm planning to create artful jars and fill them with soaps to give as budget- and eco-friendly gifts this year. While I'm there, I might as well refill my own bottles of Dr. Bronner's and laundry detergent.
8. Pangaea Café
While there are certainly many great burgers to be had in our region, Pangaea's rises to the top, having won top choice at the Sacramento Burger Battle. I agree, and so does my brother-in-law, who is getting a gift certificate to Pangaea (available in any amount), for an award-winning burger and one of the many top-notch beers in Pangaea's tap room or from their bottle shop. It's located in Curtis Park, across from Gunther's, so why not grab a scoop of ice cream to congratulate yourself on your thoughtful purchases!
I hope this gift guide inspires you as you begin your holiday shopping, and that you encourage others to choose where they shop this year with an increased sense of purpose.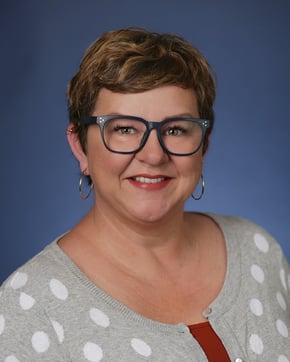 Susan Burns
Susan Burns works with the SAFE Marketing Department as senior graphic designer, and works each day to express the SAFE mission and vision through design. In 2015, she became the design team lead. When not creating beautifully designed business solutions for SAFE, Susan enjoys spending time with her husband and her pets, and biking around her Midtown neighborhood. If she could attend every maker fair and festival in Sacramento, she would!