So you want to buy a home. It's an exciting prospect, and it's best to come prepared before starting your home buying journey. In addition to the type of house you want and neighborhood, you also have to consider a number of aspects about the home loan itself.
At SAFE Credit Union, our mortgage officers have years of experience helping people in all stages of life, from those buying their first home, to families moving up, to retirees downsizing. They're also well equipped to assist you with refinancing a home loan, tapping into your home's equity, or purchasing second homes and investment property.1
What is a home loan?
A home loan, or a mortgage, enables you to purchase a home without having to pay for all of it in cash when purchasing. You will need to make a down payment, typically between 3% and 20% of the home's appraised value, along with closing costs and other fees. The lender then finances the rest of the purchase. You'll repay the loan, along with interest, over the course of (generally) 15 to 30 years.
Are all home loans alike?
Before you get started, you'll need to choose a mortgage type. A conventional loan will necessitate a down payment around 3% to 20% of the purchase price. You can also put more down, of course! There's also an FHA loan, which only requires a down payment of 3.5%, but necessitates mortgage insurance. If you're a military veteran, consider obtaining a VA loan, which lets you buy a home with no down payment.
Once you've chosen the kind of loan best for your scenario, you may be given a choice of repayment arrangements for that loan. Here are the three common types of mortgages:
30-year fixed-rate mortgage.

The interest rate on this 30-year mortgage will remain fixed no matter the changes to the national rate.

15-year fixed-rate mortgage.

This mortgage will also have a fixed interest rate, but the term is just 15 years. The monthly payments will be higher, but the overall interest paid over the course of the loan will be significantly lower.

Adjustable-rate mortgage (ARM

). An ARM typically gives the borrower a fixed interest rate in the early years of the loan, and then becomes a variable rate. The rate may increase or decrease during the life of the loan.
What do I need to know before applying for a home loan?
A home is likely to be the largest purchase you will ever make. To qualify for one, you will need to prove that you are living a financially responsible life and that you can afford the monthly payments.
The primary way lenders gauge your financial responsibility is through your credit score. This number is like a grade that tells lenders how you've handled your past credit card accounts and other debts. It will include the length of time you've had your credit cards and loans open, the timeliness with which you've made your payments, the trajectory of your debt, and the amount of available credit you might use. You can check your score for free from all three major credit bureaus once a year at AnnualCreditReport.com.
During the time leading to your mortgage applications, make sure to pay all your bills on time, don't open new credit cards, and work on paying down overall debt. A higher credit score will help you get approved more easily, and it may net you a lower interest rate on your loan.
Another crucial factor in determining your eligibility for a mortgage is your debt-to-income ratio, or your DTI. Lenders want to know how big your collective outstanding debt will be in relation to your income if you receive the home loan.
When should I apply for a home loan?
While you won't need the loan until you are ready to close on a house, it's a good idea to start the process before you begin house-hunting. Your lender will let you know whether you can expect to be approved for a loan and will provide you with an estimate of how much house you can afford so you don't face disappointment later.
When initially applying for a home loan, ask your lender for a letter of pre-approval. This letter confirms you are pre-approved for a home loan up to a specific amount. Having this letter in hand shows real estate agents and sellers that you are serious about buying. Most pre-approvals are only good for 60-90 days, so make sure you're ready to start house hunting before you get yours.
How do I apply for a home loan?
To apply for a home loan at SAFE Credit Union, contact one of our mortgage officers to help you get started. They will provide you a complimentary consultation where you'll discuss your home buying goals, financial status, and timeline to help identify the best options for you.
Make sure all of your financial paperwork is in order and hold onto all important financial documents in the months leading up to your application.
To make it easier, we've created a list of the information and documents you'll need:
Name of current employer, phone, and street address

Length of time at current employer

Official position/title

Salary including overtime, bonuses, or commissions

Two years' worth of W-2s

Previous two years' tax returns

Profit & loss statement if self-employed

Pensions and Social Security check stubs

Statements for all checking and savings accounts, and investments (stocks, bonds, retirement accounts)

Proof of any gifted funds from relatives

Information on all outstanding debts (current balances and monthly payments)

You will also need to explain any blemishes on your financial record; including bankruptcies, collections, foreclosures, and delinquencies

Proof of homeowners, flood, and/or earthquake insurance (if refinancing)

Property tax bill (if refinancing)
HomeAdvantage
Members of SAFE Credit Union are eligible to participate in the HomeAdvantage® program2. This home buying program connects you with experienced and vetted real estate professionals who know the market you're shopping in, and provides cash awards upon closing. If you're buying or selling, learn how HomeAdvantage can help you.
If you're ready to apply for a home loan – or even if you're just researching your options – contact a SAFE Credit Union mortgage officer today to get started.
1 All loans subject to approval and membership eligibility.
2 The HomeAdvantage program is made available to you through a relationship between SAFE Credit Union and CU Realty Services. Program Cash Rewards are awarded by CU Realty Services to buyers and sellers who select and use a real estate agent in the HomeAdvantage network. Home buyers or sellers are not eligible for Cash Rewards if they use an agent outside this network. Using SAFE Credit Union for a mortgage is not a requirement to earn Cash Rewards. Cash Rewards amounts are dependent on the commissions paid to the agent. SAFE Credit Union may have specific rules on how your Cash Rewards will be paid out. Cash Rewards incentives are available in most states; however, are void where prohibited by law or by the lender. Please consult with your credit union to get details that may affect you.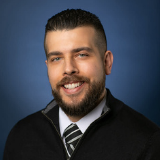 Jason Fonseca
Jason Fonseca, financial educator at SAFE Credit Union, has spent the past decade educating residents of the Greater Sacramento area on how to create a successful financial and professional future! Through relatability, an infectious sense of humor, and firsthand knowledge of numerous sections of the financial industry, Jason provides entertaining workshops that aim to better the way you handle your finances so you can better enjoy life.