Just over 1% of U.S. dogs and cats are insured.* This low percentage may be attributed to the many common misconceptions about pet insurance.
I'd like to share some truths about how pet insurance can benefit your furry family members, while busting some of the top pet insurance myths.
Myth 1: My pet is young and healthy, so they don't need pet insurance.
We get it. Your feline or canine pal is young and healthy, so why pay for health insurance right now? But that's the best time to get a pet insurance plan. That way, you're prepared if an accident or illness happens in the future.
Here's a real-life situation that just happened to me. As I write this, my super healthy pup, Evie, just turned 2 years old. Six months ago, we were having a nice relaxing time in our back yard when suddenly, Evie wobbled and collapsed, becoming unresponsive. We had no idea what was happening. When we arrived at the emergency clinic, we were told she was in anaphylactic shock, likely from a bee sting. She stayed the night and was released 24 hours later. The bill was over $1,000! Thankfully, we had Evie covered with pet insurance. We submitted our claim and were reimbursed for the eligible expenses.
Less than three weeks later, it happened AGAIN! Evie stepped on a bee and off we went to the ER. Evie came home safe and sound the next day. Again, the eligible ER visit costs were reimbursed, as well as the eligible Epi-Pen prescription costs. 2
I hope this story encourages you to learn more about pet insurance. But in case you'd like a bit more information, we'll bust a few more myths for you.
Myth 2: Pet insurance isn't worth it because it doesn't cover routine care, like annual checkups.
Accident and illness pet insurance plans are intended for what could happen in the future, not for what's happened in the past. There are, however, some providers that offer preventative care coverage options in addition to accidental and illnesses pet insurance coverage.
Expected annual costs can be budgeted for routine care. Unexpected injuries and illnesses can catch you off-guard, leaving you less financially prepared; this is when pet insurance can be extremely beneficial. Many providers offer accident & illness plans, as well as an accident-only option in case that's better for your budget.
Myth 3: I can only use pet insurance at specific veterinary hospitals.
Some pet insurance plans don't have strict vet networks, so you have less restrictions on which vets are eligible, and it's easier for your pets to visit their favorite vet. With many plans, you can customize your deductible, annual coverage, and reimbursement rate to create a plan that works for your budget.
Myth 4: Filing a claim is difficult and requires lots of paperwork.
For pet parents, filing a claim is typically straightforward and as easy as 1, 2, 3.
Visit your vet for covered conditions and treatments and pay your bill.

Submit claims online, by mail, or by fax.

Reimbursements are sent by mail or directly deposited into your bank account in a timely manner.




Myth 5: My pet had a previous medical condition, so pet insurance won't cover them.
While pre-existing conditions may not be eligible for coverage, you can still plan for future injuries or illnesses. Pet insurance helps give you comfort knowing that your dog and cat family members have coverage for the unexpected.
Here at SAFE, we're partnering with an excellent pet insurance provider, the ASPCA® Pet Health Insurance program.3 Visit here to learn more.
1 "Insured Pet Population Grows by 18%." Today's Veterinary Business, June 2019.
2 ASPCA® Pet Health Insurance plan is not the provider for this example. Paid Endorsement.
3 ASPCA® Pet Health Insurance program: Discounts may vary and are subject to change. Pre-existing conditions are not covered. Waiting periods, annual deductible, co-insurance, benefit limits and exclusions may apply. For all terms and conditions visit www.aspcapetinsurance.com/terms. Preventive and Wellness Care reimbursements are based on a schedule. Complete Coverage℠ reimbursements are based on the invoice. Products, schedules, and rates may vary and are subject to change. More information available at checkout. The ASPCA® is not an insurer and is not engaged in the business of insurance. Products are underwritten by United States Fire Insurance Company (NAIC #21113. Morristown, NJ), produced and administered by C&F Insurance Agency, Inc. (NPN # 3974227).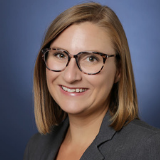 Leila Nagel
Leila Nagel works in the SAFE Marketing Department as Sr. Communications Specialist. She's a top SAFE community volunteer and serves on the SAFE Wellness Committee. Leila enjoys biking with her partner to farmer's markets, visiting local wineries, running with her pup, and reading books in the sunshine.