Taxes! We all dread doing them, but the whole time we hope we'll get something back. Even though a tax refund is technically money you overpaid the federal government–meaning it's money you could have kept in your paycheck throughout the year–it still can feel like a bonus.
According to the IRS, the average federal refund is $2,900 for 2021 so far. It's so tempting to splurge on something fun or immediately put it all into your savings account.
What if you do both? With a bit of planning, you can put your refund to use in several ways. Here's what my partner and I have done for years, and it's helped us get ahead on our home improvements, pay off credit card debt, build our emergency fund, grow our "opportunity" fund, and give to our favorite charity.
Home Improvements
Being a homeowner can be fun, but also can take some planning for the big projects. At the beginning of each year, we write down our home improvement wish list, and then circle the top two that we really want to complete. We give greater weight to those improvements that will help us save more money in the long run, i.e. solar panels, insulated windows, energy efficient appliances, water-resistant landscape. Then we get quotes so we know what the ballpark cost will be. Once we know how much our tax refund will be, we determine which option fits our overall tax refund plan for the year.
Not a homeowner, but want to be?
Before we were homeowners, we focused on ways to build our credit. We worked on paying down debt, paying off smaller balances first, and then tackling those with a higher interest rate. We also used a part of our tax refund to open a SAFE Cash Rewards Secured Visa® Credit Card. A secured card is a great way to build your credit, and you can even still earn cash rewards!
Emergency Funds
Throughout the year, we put a small percentage of our paychecks into our savings accounts. We have two accounts using SAFE's "You Name It" feature: Family Pup Pack and The Unexpected. At tax refund time, we choose one account to pad a bit more. Our goal is to have enough for 3-6 months of expenses in each. During the year, if we do have an emergency, we use our SAFE Cash Rewards Visa® Credit Card, and then pay off that purchase from one of our emergency funds. That way we also get cash back on our purchase, and put that in our savings, too.
Opportunity Fund
A fun fund! Really the sky is the limit for what this can be used for. Ultimately, you are building a fund for something in the future when "opportunity knocks." We use a Preferred Money Market account for this because dividends are often higher than traditional savings accounts, and, although we have access to our funds, it "feels" more hands-off than a savings account. What opportunities await you? It could be starting that business venture you always dreamed of; sending your child to their college of choice; taking the family to volunteer at a turtle sanctuary in Thailand. This fun fund lets you dream big and supports your dream in becoming a reality.
Paying it forward
We also use our refund to donate to our favorite local nonprofit. This year is especially important to contribute to our local community if you can. Many nonprofits experienced fewer donations while meeting increased need during the pandemic, so it's nice to be able to give them a boost.
Your turn
See, that wasn't so bad. Using your tax refund with a plan can be fun and rewarding. What's your plan?
If you're interested in learning more about how to conquer debt, save for your next big goal, and more, you can learn more with our free financial education webinars, open to everyone! My partner and I have learned so much about how to be more financially savvy. And it's worth mentioning that the educators make it fun, while giving tips that can be applied right away.
You can also learn more personal finance insights with SAFE's Financial Fitness Academy. Explore topics from savings goals, buying a home, managing debt, planning for retirement, and a whole lot more.
Join SAFE to become a part of a community working toward building a better financial future.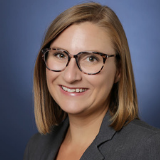 Leila Nagel
Leila Nagel works in the SAFE Marketing Department as Sr. Communications Specialist. She's a top SAFE community volunteer and serves on the SAFE Wellness Committee. Leila enjoys biking with her partner to farmer's markets, visiting local wineries, running with her pup, and reading books in the sunshine.