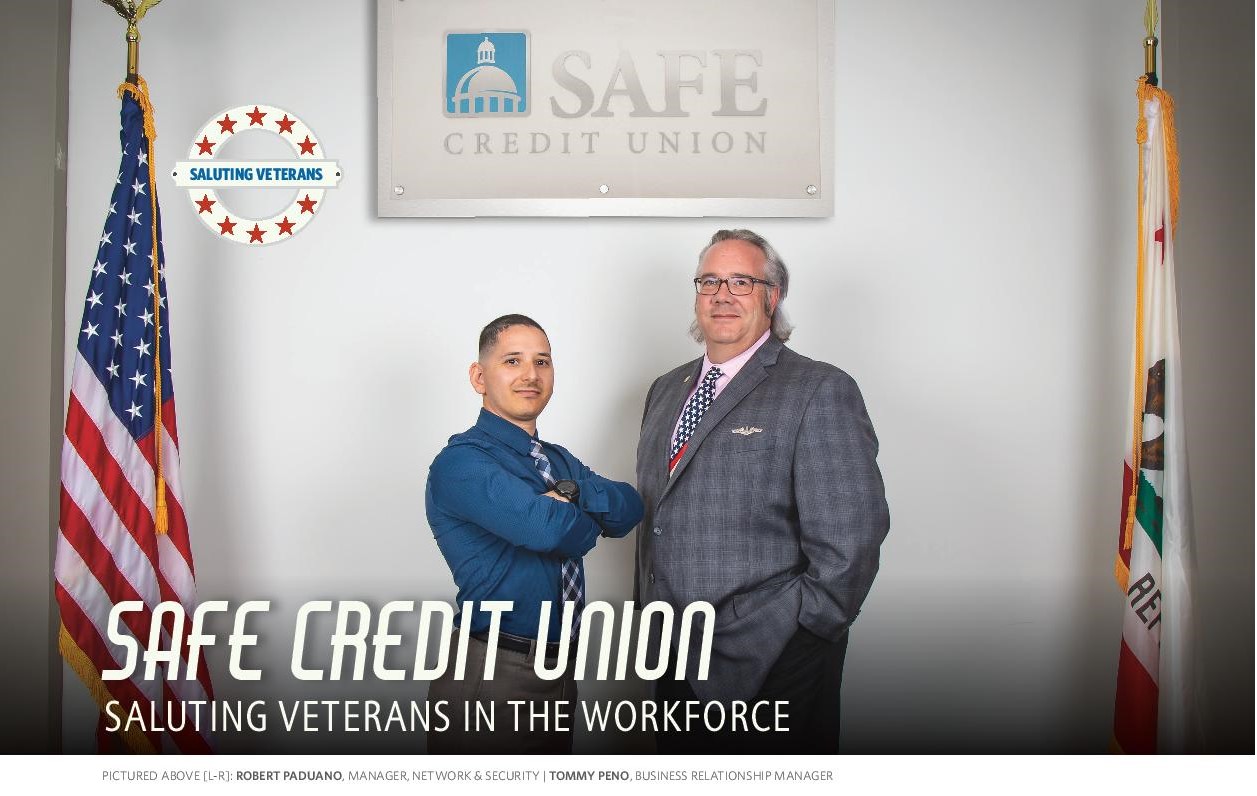 Robert Paduano, AVP Systems Engineering and Information Security, and Tommy Peno, Business Relationship Manager, were featured in a Comstocks Magazine article saluting veterans. Photo and layout from Comstocks Magazine.
SAFE Credit Union salutes U.S. veterans this Veterans Day!
Supporting current and former military personnel is one of the pillars of SAFE's mission, from our philanthropic giving to our hiring practices. SAFE's military roots run deep – the credit union was started by 10 Army Air Corps members in 1940 here in Sacramento. Over the next 80 years, we've expanded our membership to include anyone who lives and works in the Greater Sacramento region, but we honor our beginning by supporting service members and including them in our staff.
Supporting service members is one of SAFE's three pillars of philanthropy, along with education and health. Just this year SAFE helped Stand Down Sacramento after it suffered a devastating theft right before its annual event when it helps veterans in need with desperately needed services. SAFE gave a $10,000 matching grant to help the nonprofit have a successful event.
As Vice President of Employee Services at SAFE, I can personally attest to the quality that veterans and those serving in the reserves bring to the workplace. Dedication, focus, camaraderie, are all traits that transition well into the workplace.
Comstocks Magazine this month highlighted two of our staff members with military backgrounds. Tommy Peno, a business relationship manager with SAFE, served on submarines in the U.S. Navy. Robert Paduano, manager of network and security in SAFE's IT Department, currently serves in the U.S. Army.
Here's how their military experience helps them succeed at SAFE.
Tommy Peno
Tommy Peno spent his years in the U.S. Navy working on nuclear submarines, an intense experience where he learned how to focus under pressure and work closely with a team.
"Being in close quarters on a submarine requires collaboration, integrity, trust and creates camaraderie among the crew members, from the captain to the most junior sailor," said Peno, who works as a business relationship manager at SAFE Credit Union. "These four traits are embedded in the culture at SAFE Credit Union and are driven by SAFE Credit Union's mission."
Ensuring that he has fundamental insight into processes and systems is another skill that Peno uses from his time in the Navy.
"Having an in-depth knowledge of all of the systems and the departments at SAFE Credit Union is critical to providing excellent member experiences," he said.
While Peno enjoys his work connecting Sacramento-area companies to products and services that SAFE offers exclusively to SAFE's business members, "I do miss the sights, sounds and smells from the sail of a submarine pulling into port after a long deployment!" he shared.
Robert Paduano
At SAFE Credit Union, Robert Paduano ensures that members' personal and financial information is secure. Paduano excels at this important responsibility in part from his 11 years in the U.S. Army.
"In the military, my occupational specialty is information technology systems," Paduano said. "With this base knowledge and years of experience, I have been able to apply these technical skills at SAFE, enabling me to manage our network and security teams successfully."
SAFE Credit Union salutes our military roots by supporting current and former military personnel in its philanthropic giving. It also values veterans as employees, with leaders citing veterans' discipline, integrity, and know-how as indispensable to SAFE's mission to provide exceptional service to its members.
"SAFE's culture aligns with the traits that have been instilled in me in the last 11 years of military service," Paduano said. "As I walk among departments, you can visibly see and feel these traits. SAFE extends this culture not only to its employees but to their members as well. SAFE is truly my family away from home."
Paduano added that veterans bring much to the workplace. "Veterans bring many strengths to the workforce. These strengths include discipline, organization, strong work ethic, confidence, ability to adapt in fast pace work environments, sense of duty and pride, and teamwork."
Join one of the Best Places to Work in the Greater Sacramento area.
Explore how SAFE supports our community.