SAFE Credit Union is committed to diversity, equity, and inclusion (DEI), and part of that commitment includes honoring Juneteenth, also known as Emancipation Day. Many have heard of Juneteenth, but might not know why this day is such an important moment in American history. Here's how Juneteenth came about:
First, the Emancipation Proclamation
Let's go back to September 22, 1862, when President Abraham Lincoln issued a preliminary Emancipation Proclamation that was later signed on January 1, 1863. The Emancipation Proclamation outlined that only enslaved Africans liberated by Union troops were considered free (this did not include the state of Texas).
The Proclamation opened the opportunity for African American men to join the Union Army and Navy during the third year of the Civil War. By the end of the Civil War, close to 200,000 Black Union Army soldiers and Navy sailors had fought for the Union and freedom.
Then, the 13th Amendment
On January 31, 1865, the 13th Amendment was passed by Congress abolishing the institution of slavery. Unfortunately, the news spread slowly and did not reach many enslaved people until June 19th, 1865.
And then, Juneteenth
Why did it take so long for this news to be shared with those who were still enslaved? General Robert E. Lee surrendered in April 1865, but Union troops didn't arrive in Texas until June. The news of slaves being free was delivered on June 19, 1865, a day now recognized as Juneteenth.
Juneteenth is now a Federal Holiday
On Thursday, June 17, 2021, President Joe Biden signed into law a bill establishing Juneteenth as a federal holiday. Prior to this day, 46 states and the District of Columbia had recognized Juneteenth as a state holiday or holiday observance with Texas being the first in 1980.
SAFE's DEI initiatives include Juneteenth
SAFE Credit Union is committed to representing and including the experiences and expertise of its diverse members and employees. SAFE Credit Union will recognize Juneteenth this year by giving all employees a floating holiday.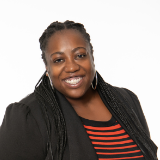 Essence Hill
Essence Hill is a Sr. Marketing Production Specialist here at SAFE, current Class XII fellow in the Nehemiah Emerging Leaders Program, and serves on the board of Single Mom Strong. Essence shares her passion about living the absolute best life she can by motivating others to be the best versions of themselves they can be.