This is one in a series of blogs based on SAFE Credit Union experts' appearances on ABC 10's Your California Life. Chief Financial Officer Chris Harris shares his insights on how public-private partnerships are the key to rebuilding our economy. Watch his interview on Your California Life here.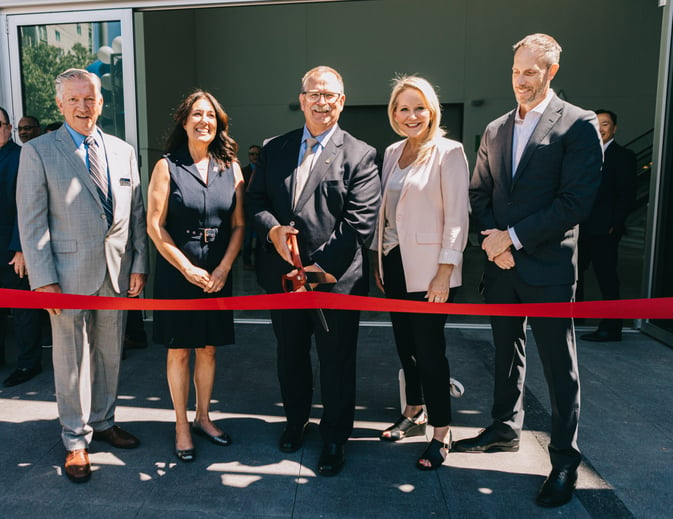 SAFE Credit Union leaders cut the ribbon at the grand opening of the SAFE Credit Union Convention Center in June 2021. From left, Chair of the Board Terrance Tremelling; Community Impact Manager Amanda Merz; President and CEO Dave Roughton; Chief Credit Officer Faye Nabhani; and Chief Financial Officer Chris Harris.
Public-private partnerships are important vehicles for creating a thriving economy. They combine the nimbleness and innovation of private companies along with the civic vision that governments provide. Cities that smartly use such partnerships can reap a host of benefits, such as driving energy sustainability projects, reducing traffic congestion, and increasing overall job creation.
SAFE Credit Union is pleased to be part of a public-private partnership with the city of Sacramento for the SAFE Credit Union Convention & Performing Arts District. This 25-year, $23 million commitment by SAFE is a tremendous opportunity for the Greater Sacramento region. There's no doubt this partnership will support our regional economy and establish Sacramento's presence as a destination city.
Why SAFE made the investment
The question for SAFE as a credit union was how to invest, not whether we should. As a not-for-profit membership organization here to serve the community, our mission is to improve the financial health and well-being of our members as well as that of the community. This partnership and our investment are intended to strengthen both as we expect to see an increase in seasonal and long-term jobs as well as an infusion of dollars from visitors to our region.
Audience members enjoy the lobby of the SAFE Credit Union Performing Arts Center on the opening night of its inaugural performance, "Hamilton".
Our hope is not only to provide employment and economic growth in Sacramento, but to also inspire and promote these partnerships in every city. This is the engine for driving job and economic growth. Sacramento has been able to do a tremendous amount of good for its residents through partnerships. Smart leadership led to the development of the downtown arena, investments in wireless technologies, the Crocker Art Museum, development of the Railyards, as well as ongoing relationships including the Downtown Sacramento Partnership that reports more than $1 billion in public and private investments in the downtown area within the last decade.
And we don't want to stop there. We very much want to be at the center of positive changes in our community. It's part of our brand promise to do what we can to help our members enjoy life.
Corporate citizenship
Participating in public-private partnerships is integral to being a good corporate citizen, a role SAFE takes seriously. Right now, everyday banking services are provided to nearly a quarter of a million members. In 2020 alone, $1.5 billion in loans were provided, including various pandemic assistance, creating a 17% increase from the previous year.
SAFE provided over $400,000 to support nonprofits and local businesses through philanthropic giving, including the donation of 3,000 masks to nonprofits. And our employees collectively volunteered more than 1,700 hours within the community, not to mention in the middle of a pandemic, in hopes to engage and inspire more to do the same.
Improving financial well-being
SAFE's investment in the District is just one way we strive to improve the financial well-being of those who live in our region. One of the things we do that we don't blow our horn about is all the financial wellness training we do for employers through SAFE's Workplace Financial Wellness program. We provide no-cost financial wellness training as our contribution to businesses in our community. If your employees are financially insecure, they are so much less effective on their job.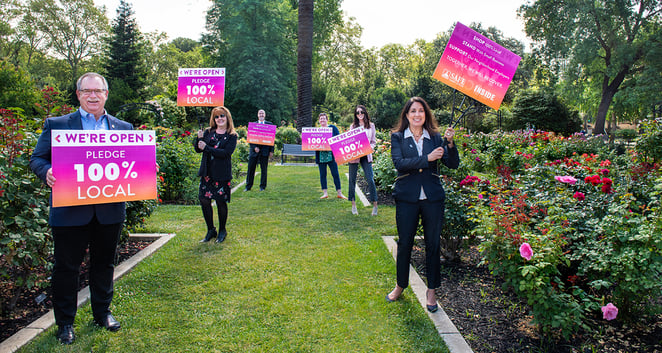 SAFE employees led by President and CEO Dave Roughton, front left, and Community Impact Manager Amanda Merz, front right, participate in the launch of the Pledge 100% Shop Local campaign.
Everyone in the community, whether a large corporation or a small mom and pop shop, is encouraged to work together and build together because financial distress can lead to traumatic events for employees and their employers, including loss of productivity. This is our way to help support our members as well as the business community at large.
We know how hard Sacramento and the rest of California's Central Valley were hit by the COVID-19 pandemic. Thousands of jobs were lost, and we know the impacts were disproportionate on underserved communities.
My hope is that as the economy and families continue to recover, they can come out and see this facility as a beacon of hope for what is still possible and that they can come and enjoy the many activities that will be hosted at the SAFE Credit Union Convention & Performing Arts District.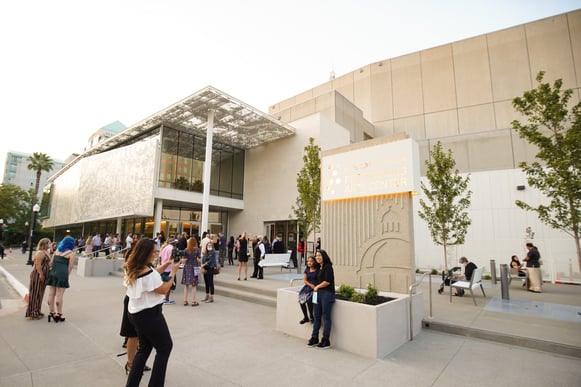 Audience members stand outside the SAFE Credit Union Performing Arts Center in downtown Sacramento.
Learn More
Learn more about the SAFE Credit Union Convention & Performing Arts Center.
Sign up for special offers and early access to events at the District.
Learn more about SAFE's Workplace Financial Wellness program for employers.