The professional skills gap across the United States, and certainly in our region, remains seemingly intractable. According to a recent study by the University of North Carolina, 10,000 baby boomers in the U.S. turn 65 every day. These numbers will result in massive labor shortages over the next five years and according to Accenture, a professional services company, could lead to a 9 percent decline in the standard of living in the U.S. by 2030.
It is important to realize that bridging the skills gap requires a holistic approach and the cooperation of every educator, employer, government, and public workforce agency. By creating synergy through collaboration and innovation, we can prepare more people to go to work with relevant skills and knowledge.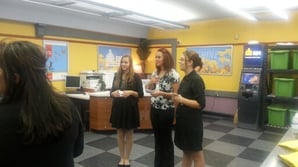 Rio Linda High School branch grand opening (2013)
SAFE Credit Union recognized the importance of workforce development for youth and took action in 2003 by opening its first branch managed by high school students. Subsequently, SAFE opened two more branches at local high schools. Opening the Mesa Verde High School branch on campus, SAFE was able to introduce students to the skills necessary to work in a financial institution, teaching valuable applications that translate to the real-world workplace. At the same time, students are introduced to soft skills, or key competencies, that are necessary in any professional workplace scenario.
'Soft skills' have become quite the buzz word in the talent pipeline discussion and for very good reason. According to a report in the International Association of Administrative Professionals, 67 percent of HR managers said they'd hire a candidate with robust soft skills even if their technical skills were lacking. Today's employers perceive a lack of soft skills among recent graduates although they are integral to workplace success. These soft skills include managing time wisely, meeting deadlines, teamwork, and dealing with setbacks. Developing these skills happens through socialization and learning values and attitudes through interactions with others.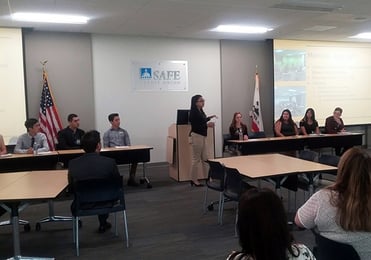 SAFE summer internship program (2017)
The goal for SAFE with the high school branch program is to provide a real school-to-career experience for students who are also provided with a two-week summer internship program, preparing them to run the high school branch in the coming year. The students work at the branch as part of their Business Academy class throughout the school year. During this time, the branch operational requirements are taught along with critical soft skills such as communication, punctuality, and teamwork. After graduation, many of the high school interns have continued to have a relationship with SAFE, successfully retaining employment at the credit union.
Given that almost six out of 10 hiring managers said the lack of soft skills is "limiting the company's productivity,"1 job applicants should highlight these during an interview. These skills may be most in demand among today's millennials, with the understanding that the most sought-after competencies – communication and organization – were ranked as critical for entry-level workers.
With good news in the Sacramento region relating to the job market, having marketable expertise that will interest employers is key to a quick hire. Students who are improving their professional skills and honing their soft skills will be that much more relevant in the current job environment. SAFE Credit Union recognizes the importance of developing these competencies and continues to strive to teach them to students and future employees. With the Sacramento community working together, we can help overcome workforce challenges and develop systems that benefit both employers and future employees.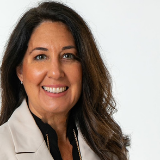 Amanda Merz
Amanda is the Community Impact Manager for SAFE and is responsible for ensuring that the organization's mission to give back is fully realized.