What would you do with $1,378?
How does having over $1,300 saved by this time next year sound? If your answer is "let's do it!", then give the 52-Week Savings Challenge a try.
Here's how it works. You tuck away an increasing amount of money for one year on a weekly basis. The best part is you start with just $1 the first week! I bet you have four quarters in your coin jar right now. You are already on your way to saving over $1,300 in one year.
This savings challenge is set up to progressively increase week over week. You will match each week's savings amount with the number of the week in the challenge — for example, on week one of challenge, you'll save $1. On week two, you'll squirrel away $2, $3 in the third week and so on, until you reach $52 on the 52nd week. At the end of the year, if you stayed on track, you will have saved $1,378!
The biggest part of this challenge is staying on track, so I encourage you to save or print out the tracker below to hold yourself accountable to your goals. It helps if you define why you're saving. Is it for a rainy day? A down payment on a new car? To pay down debt? To set aside money for that long-awaited vacation? Determine your "why" to help make your savings habit stick.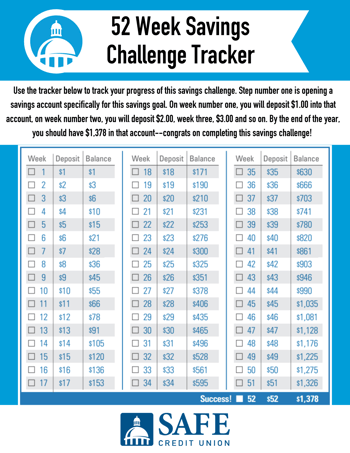 Save and print out the 52-week-challenge tracker here.
An important part of saving money is to put it in a dedicated account that you don't use on a regular basis. SAFE offers "you name it" savings accounts that you can name to match your savings goal, like "Travel" or "Big Purchases" or "Emergency Fund." It only takes $5 to open this account, so you will have a head start on the 52-week challenge.
Another option at SAFE is our Add-On Certificate that lets you add money to the certificate during the term. You only need $25 to open an Add-On Certificate, so if you use that for the 52-Week Savings Challenge, you'll have over $1,400 in the account at the end of the challenge. Certificates are especially helpful to keep you from accessing the money since they lock up the money for a certain amount of time.
To remind you each week to make your deposit, set a recurring calendar invitation to your phone. One of my friends came up with this idea when we did the challenge together, and after a while she found she didn't even need the notification because it became a habit to transfer the money into her savings account every Monday morning.
One other idea: automate your savings. Set up a recurring transfer from your checking account to your savings account so you don't even have to think about it.
In the end, that's what our overall goal is, right? We want to make saving money a habit, to set ourselves up for less financial stress and more financial empowerment.
I hope you join me in the 52-Week Savings Challenge to keep your America Saves Week momentum going!
Ready to do more for your financial wellbeing?
Listen to the Perfect Cents Podcast!
Learn more about SAFE's savings account options.
Attend one of our webinars to learn more about how to build your credit score, prepare for large purchases, and set up living trusts.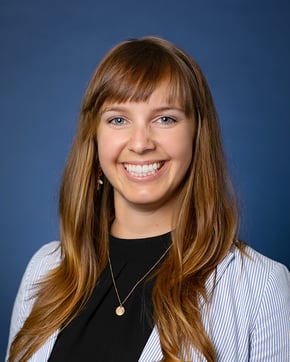 Brit Kelleher
Brit Kelleher is the Community Impact Specialist at SAFE Credit Union on the Community Relations team. She is co-host of Perfect Cents Podcast, SAFE's financial education podcast. She is passionate about financial education, sustainability, and supporting local small businesses to invest in her local Oak Park economy. When not assisting with community engagement initiatives for SAFE, she enjoys taking walks around her neighborhood, petting all the friendly dogs she comes across, and gardening in her backyard.