With dozens of options at your fingertips (literally), how do you choose the best banking option for you? With many of the same services being offered at both traditional banks and credit unions, how can you differentiate between the two and why would you choose one over the other? And with more than 75 million millennials1 choosing financial options, it's important to look at the opportunities and challenges facing America's largest generation.
Credit unions offer a different way of banking, a more connected way that isn't just about numbers but about people and their needs. The overwhelming majority of millennials regard businesses, not just individuals, as a force for positive social impact2 – in other words, a perfect place for credit unions to truly shine. Let's take a look at a few reasons why considering a shift from a for-profit institution might just be the best decision you make for your money and your financial health.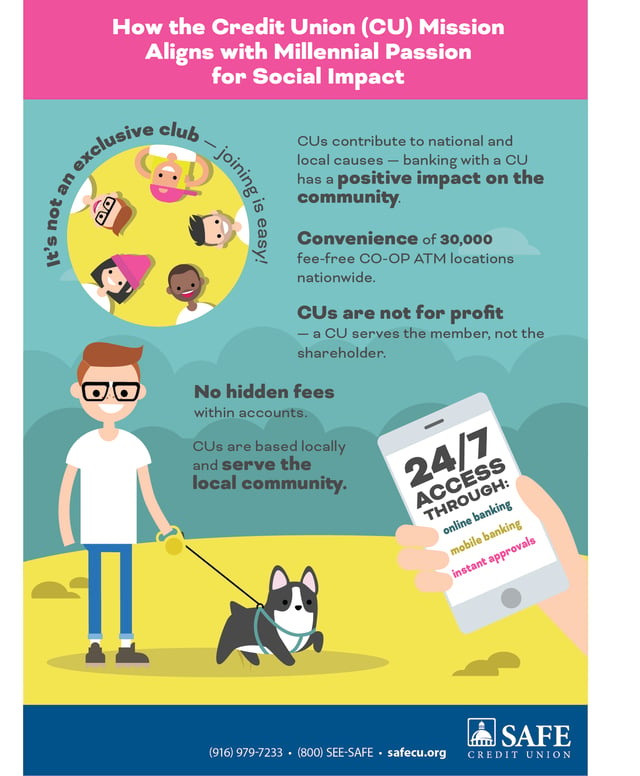 Local banking-national reach
Credit unions are based locally and serve the local community. Involvement in regional causes is a point of pride for these organizations, and "people helping people" is, in many ways, their core mindset. Instead of distributing wealth to a few shareholders, resources are returned to member owners in the form of lower fees and financial products that could save hundreds of dollars per year. Members also have flexibility with their banking options; for example, a member from California can enjoy fee-free access to an ATM at a credit union in Texas. Not being limited to one geographical area gives members the flexibility to bank nationally. Banking locally, but with national access offers more options for banking than traditional financial institutions have provided in the past. With credit union CO-OP ATM networks offering more than 30,000 ATMs nationwide, those numbers are often much higher than the next traditional big bank, which averages about 18,000 ATMs nationwide.3 Further, since more than 98% of millennials own smart phones, having flexibility is key to staying connected to your finances.4
Not-for-profit serves the member
Due to the structure of a traditional bank, and their responsibility to shareholders, their primary objective is profit. Sadly, this goal may interfere with the needs of customers who want to take advantage of lower rates and fees, and be serviced by local customer service professionals. In order to provide this level of service, banks would need to cut into their profits – clearly a conflict of interest. At a credit union, member goals are not at odds with management directives, meaning credit unions can offer members better services at a lower cost.
No longer a parent's institution
When looking at the technological advancements of credit unions, there's nothing better than having account access and member services at your fingertips. Credit unions have the same wide breadth of services that big banks have while allowing a member the technology to be on-the-go. Credit unions offer many services that can be accessed 24/7 including online banking, mobile banking, easy online loan applications with instant approvals, bill pay, account transfers, and email access to member service representatives. And most credit unions now offer mobile pay options, giving members even more accessibility to their finances.
Make a difference
Philanthropy means a concern for human welfare and advancement; being community-minded, most credit unions regularly support local nonprofit organizations and contribute their money, their time, and their talent to those groups. In many cases, this movement to give back links its mission with members' philanthropic efforts. This mission has been embedded into the culture of credit unions who contribute - a lot - to a variety of national and local causes. So, banking with your local credit union does have an impact - a positive one - on those around you!
No more sneaky fees
Through mobile banking, text banking, and other online tools, credit unions are offering convenient and cutting-edge options for you to stay connected to your money. Plus, with fewer fees, credit unions earn points for not nickel-and-diming their members. In a survey conducted by the Filene Research Institute, millennials polled responded that banking with the organization that had the cheapest options was most important to them when finding a financial institution.5 Some big banks offer free checking and savings accounts but put many conditions on those "free" accounts and charge fees that can quickly add up. It's these kinds of restrictions and fees that frustrate bank customers.
And the number one reason for choosing a credit union over a bank for your personal finance needs?
Joining is a cinch
Membership has gotten much easier since some of the requirements for membership have eased over the years. For the most part, gone are the days when you had to belong to a specific organization to gain the benefits of the associated credit union. Now, eligibility can be as simple as living in the area where the credit union is based, so it's easier than ever to reap the benefits .
As rising fees continue to affect many services at large banking institutions, credit unions consider their members their top priority. By offering free or low cost accounts, competitive lending rates on home and auto loan products, and locally-based customer service, credit unions have done an amazing job creating loyal members from everyday consumers. While you have options when it comes to banking, a community-oriented, not-for-profit group that is member-focused and on the cutting edge of innovation should be the clear choice for millennials.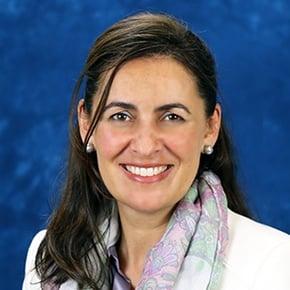 Anca Green
Anca Green is a senior communications specialist at SAFE Credit Union within the marketing department and has focused on writing for much of her career. She's passionate about the creative process and seeing a big picture vision come to fruition. After hours, she enjoys spending time with her two daughters and husband.