"It's that time of year again!" I announced to the team as I opened the newly arrived email. The subject line read; SAFE's 2017 High School Summer Intern Program – a message that has, over the years, provided a good deal of joy and nervous anticipation for those of us in the marketing department.
My name is Susan Burns and I've been a senior graphic designer at SAFE for just over seven years. And with this tenure, I have seen my fair share of summer interns come through our department. It's a fun and exciting time for us, and in a fast-paced environment like Marketing, it can also come with its own unique set of challenges.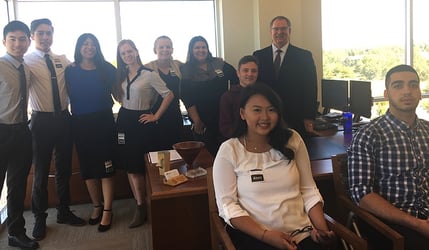 The SAFE Intern Program isn't like most internships – it's more of an integrated educational experience. A group of high school juniors from Rio Linda High School, Mesa Verde High School, and for the first time this year, Cordova High School, spent two weeks at SAFE learning all they can in order to successfully run their school branches (in the case of Cordova, the branch is slated to be built and ready in 2018). These students are also in charge of bringing back important financial literacy information to their peers at their schools – it's a big responsibility, and each year I am impressed by their ability to speak accurately and articulately about saving, opening an account, and the basics of good money management.
This summer, as we do every summer, the Marketing department spent two days over the course of two weeks with this energetic group. The first day, the interns met one-on-one with each person in the department for a speed-round of interviews that lasted 5 minutes per person. They asked questions about how each employee got to where they are in their careers, their educational and professional backgrounds, as well as what they like most about their jobs. Their questions challenged the employees in the best possible way, and the whole department was bubbling with energy.
After the session, the interns reported being interested and surprised at how each of our team members' career paths haven't all been straight lines from college degrees to the jobs here. Further, they were impressed to see how a diverse group of individuals bring together all the strengths and areas of expertise – analysts, copywriters, and designers – to create cohesive marketing campaigns. That's an astute observation, and one that truly renewed the appreciation of the marketing team.
The interns were also able to draw conclusions about the SAFE brand from the way they observed their employee mentors representing the mission of SAFE — especially the part about being professional experts.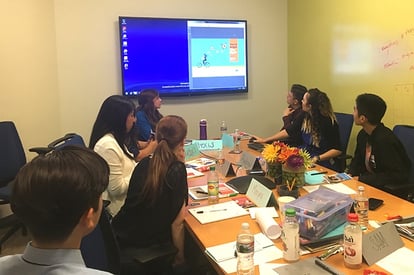 Speaking of branding, their next task was to identify their own personal "brand" by designing a tagline and logo for themselves. It was truly amazing to watch them learn to distill abstract concepts into concise marks and slogans. This is one of the most difficult things about Marketing, and through their attention, creativity, and quick grasp of the concept, they presented their finished products with finesse!
The interns then ended their day with Paul Hersek, vice president of marketing, learning about identifying their audience, and thinking through how to customize their message to that audience.
The following week they brought all these concepts together to create their very own promotion, which would be displayed at their high school branches the following school year. After the hard work of learning the benefits and features of the product they would be promoting – Perfect Cents Checking® – then breaking out into writing and design groups and brainstorming, they were ready to present three distinct promotional directions. Mike Webber, assistant vice president of marketing, and Anca Green, senior communications specialist, helped the group to narrow the choices down to the final idea, which was almost unanimous – the strongest idea rose to the surface, and the best aspects of the others would be incorporated wherever possible.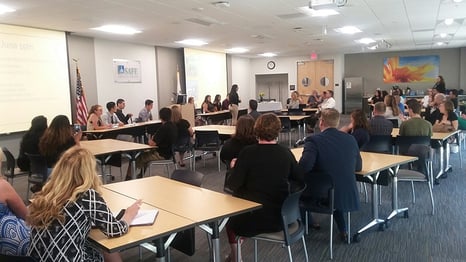 Their last day at SAFE, they presented in a larger room to the directors of SAFE's board, parents, executives, and some of their mentors they had worked with throughout their two weeks at SAFE. They each participated – from the most outgoing who spoke like true professional experts and came out from behind the podium to work the whole room, to the shyest students who courageously stepped out of their comfort zone and presented their portion of the program. It was wonderful to see all they learned from their time with Marketing, as well as all the other departments they worked with throughout their internship.
It seems like every year I realize that working with the interns has made an impression on me, too. Despite the time it can take away from our seemingly ever-growing task lists, it also provides a renewed sense of energy and motivation among our department members that boost our creativity and morale. It's a true pleasure to see what each new group brings to the table – from their ability to grasp concepts quickly, their strong "Generation Z" perspective, high energy level, and intensive active listening, these students offer so much that continuously inspires my own work, and that of the whole department. I think I speak for all of the Marketing team when I say we can't wait until next year!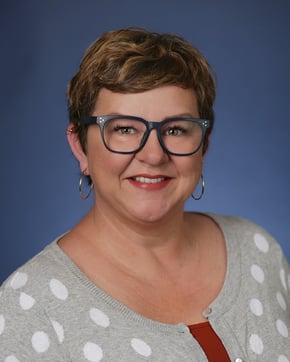 Susan Burns
Susan Burns works with the SAFE Marketing Department as senior graphic designer, and works each day to express the SAFE mission and vision through design. In 2015, she became the design team lead. When not creating beautifully designed business solutions for SAFE, Susan enjoys spending time with her husband and her pets, and biking around her Midtown neighborhood. If she could attend every maker fair and festival in Sacramento, she would!