Updated March 27. 2020
Authorities are alerting consumers to be wary of scams related to the COVID-19 coronavirus outbreak. These scams range from criminals posing as WHO officials conducting phone and phishing scams; ID thieves harvesting credit card and other information on websites purportedly selling safety items; to merchants gouging customers with sky-high prices on everyday goods.
Stimulus check scams
As the $2 trillion stimulus bill receives its final approvals, the Federal Trade Commission warns that scammers are already trying to cash in with fraudulent schemes around the money the government will be sending through direct deposit or by check.
The FTC shares these tips on how to avoid a scam.
The government will not ask you to pay anything up front to get the payment. There are not any fees, charges, or even taxes you will have to pay.
The government already has all the information it needs to send you the money, including your Social Security number and bank account if you've had tax returns directly deposited into your account in the past. And the government definitely doesn't need your credit or debit card information to issue the payment.
No one can get you this money early or in another fashion than how the government will send it to you. The government is not working with any organizations to help you obtain the money.
Report fraud regarding the stimulus payments to www.ftc.gov/complaint.
Phishing sites targeting SAFE members
SAFE Credit Union cares about your well-being — both your financial health and your physical health. While you're taking safety precautions to protect yourself from the virus, also take steps to protect yourself from scammers.
SAFE Credit Union is aware of phishing sites with SAFE branding. These sites are set up to steal your personal information to steal your identity. We are working with the web services hosting these scam sites to remove them.
When accessing SAFE's digital banking services, only trust the URL safecu.org. SAFE does not use URLS ending in .com, .co, .biz, or any other suffix.
You can also securely access your account using the SAFE Mobile App.
If you haven't already:
WHO scams
The World Health Organization shares important information about how to identify scammers who may be inappropriately using the WHO name.
The World Health Organization will:
never ask you to log in to view safety information
never email attachments you didn't ask for
never ask you to visit a link outside of www.who.int
never charge money to apply for a job, register for a conference, or reserve a hotel
never conduct lotteries or offer prizes, grants, certificates or funding through email
never ask you to donate directly to emergency response plans or funding appeals.
Beware that criminals use email, websites, phone calls, text messages, and even fax messages for their scams.
You can verify if communication is legitimate by contacting WHO directly here. Report a scam here.
Specific COVID-19 WHO scams
WHO reports it's aware of suspicious emails trying to take advantage of the coronavirus emergency. These "phishing" emails appear to be from WHO and ask recipients to:
Give sensitive information, such as usernames and passwords
Click a malicious link
Open a malicious attachment.
Doing of these actions may allow criminals to install malware or steal your sensitive information.
WHO says it only sends email with the email address ending in @who.int. It never sends emails from addresses ending in @who.com, @who.org, or @whosafety.org.
If you believe you are a victim of a scam done in WHO's name, report it to WHO.
Business scams
The Federal Trade Commission warns consumers to be on the lookout for a host of scams ranging from sales of bogus products to phishing attempts designed to gather your personal information.
It says to be wary of emails and social media posts promoting false awareness and prevention tips, as well as fake information about the virus in your neighborhood. They also may ask you to donate to victims, offer advice on unproven treatments, or contain malicious email attachments.
The FTC shares these tips:
Don't click on links from sources you don't know. It could download a virus onto your computer or device. Make sure the anti-malware and anti-virus software on your computer is up to date.
Watch for emails claiming to be from the Centers for Disease Control and Prevention (CDC) or experts saying that have information about the virus. For the most up-to-date information about the coronavirus, visit the Centers for Disease Control and Prevention (CDC) and the World Health Organization (WHO).
Ignore online offers for vaccinations. If you see ads touting prevention, treatment, or cure claims for the coronavirus, ask yourself: if there's been a medical breakthrough, would you be hearing about it for the first time through an ad or sales pitch?
Do your homework when it comes to donations, whether through charities or crowdfunding sites. Don't let anyone rush you into making a donation. If someone wants donations in cash, by gift card, or by wiring money, don't do it.
Be alert to "investment opportunities." The Securities and Exchange Commission (SEC) is warning people about online promotions, including on social media, claiming that the products or services of publicly traded companies can prevent, detect, or cure coronavirus and that the stock of these companies will dramatically increase in value as a result.
Price gouging
The California Attorney General's Office issued a price-gouging alert in the state shortly after California declared a state of emergency in response to COVID-19.
California law prohibits charging a price that exceeds the regular price of an item by more than 10 percent when an emergency is declared. The law applies to food, emergency and medical supplies, building materials, and gasoline. It also applies to repair and construction services, emergency cleanup services, transportation, freight, storage services, hotel accommodations and rental housing. Violators can be punished by up to a year in jail and/or a fine up to $10,000.
Be safe out there!
And here's a fun Bingo game to play and share on social from the FTC.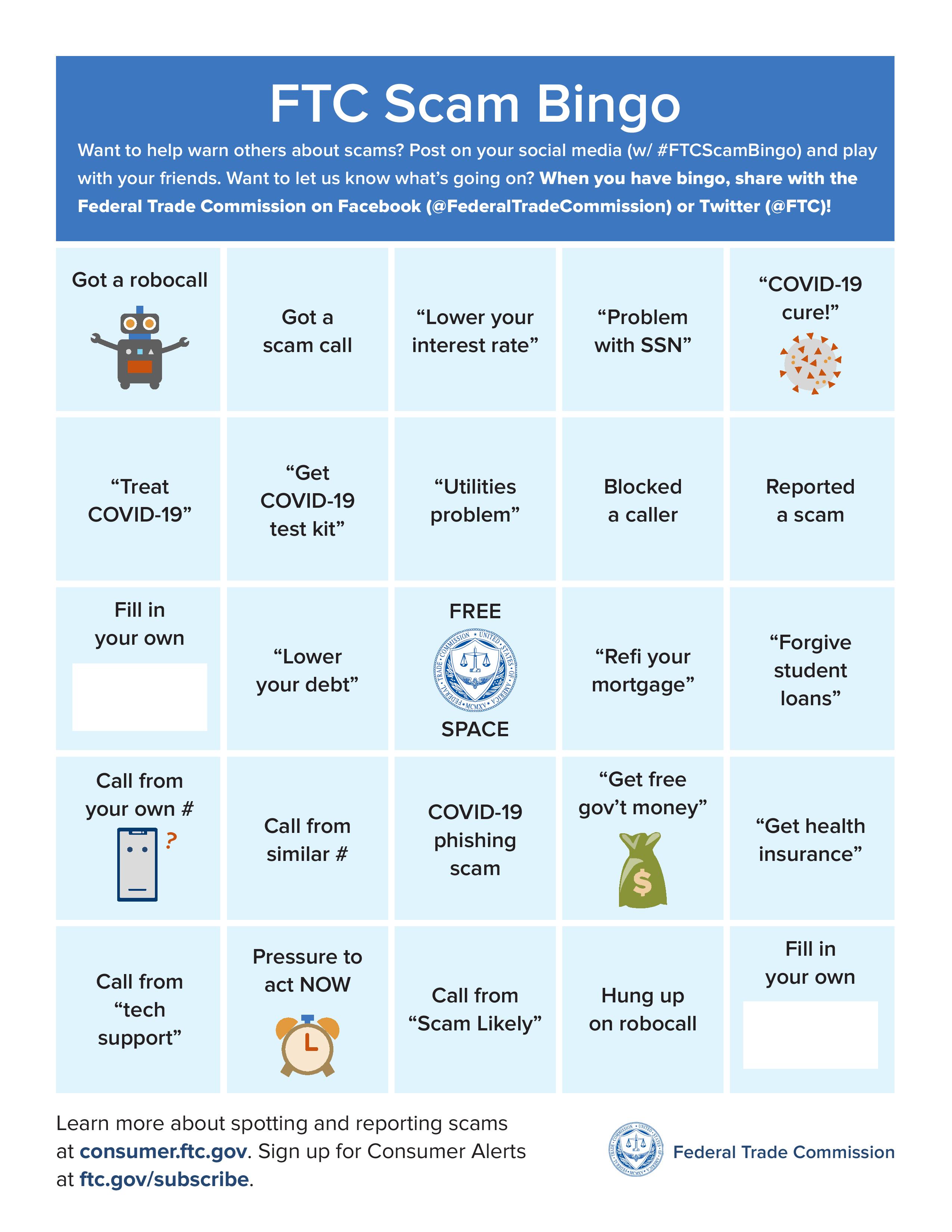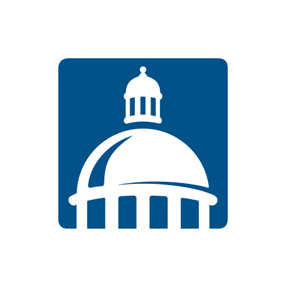 SAFE
SAFE Credit Union has served its members with integrity, exceptional service, innovative products, and progressive technology since 1940.