This summer, SAFE Credit Union is launching a new branding campaign that literally puts YOU first. Developed by the award-winning advertising agency un/common, "SAFE Credit YOUnion" was created to reintroduce SAFE and the credit union movement to the Sacramento region.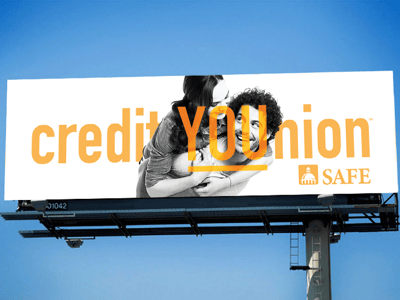 You'll see the campaign appearing in television ads, digital placements such as YouTube and Hulu, larger-than-life billboards and in local print publications. The visually bold campaign focuses on what sets the nearly 80-year-old institution apart.
This is the story of the WHY behind the YOU.
Those familiar with SAFE know it as a "people brand" with genuine, dedicated staff committed to truly helping members. When un/common completed a rigorous discovery process to get to the heart of what made SAFE special, over and again they encountered real stories members told them about their personal experiences of how SAFE Credit Union helped improve their life. You can see for yourself what makes SAFE so special by going to safecreditYOUnion.org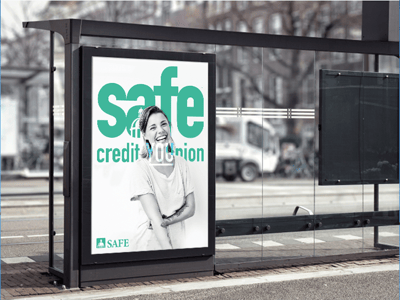 But many individuals, maybe even you while you're reading this, still don't really know how a credit union is different from a bank. Or, what difference it could really make for your financial future.
So before we can talk about where we are today and the YOU campaign, we should start with –
Why were credit unions even started in the first place?
The credit union movement began with a simple idea – that people could achieve a better standard of living for themselves and others by pooling their savings and making loans to neighbors and co-workers. The philosophy of the credit union movement is "Not for Profit, Not for Charity, But for Service." A concept that began in 1901 with a single deposit of 10 cents has now grown to more than 110 million members of credit unions across the nation.
Still not sure what this means for you? Here are the top differences:
| Credit Unions (Us) | Banks (Them) |
| --- | --- |
| Not for profit | For profit |
| Earnings returned to members ie. free ATMs, better rates and lower fees | Earnings go to outside stockholders |
| One member, one vote | Shareholders can have many votes based on number of shares owned |
| About 30,000 surcharge-free ATMS | Fees for other ATMs |
| Local, community based | Many are national |
| Members | Shareholders |
SAFE has been serving the Sacramento community for almost 80 years, starting with 10 founding members and a single branch at the Sacramento Air Depot in 1940 and growing to a $3 billion financial institution with more than 235,000 members served at 21 branches in 13 counties and a mortgage lending office serving Contra Costa and Alameda counties.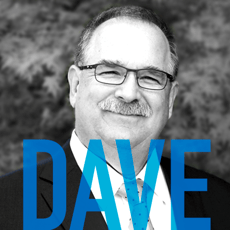 "Because SAFE is committed to serving you, we wanted the campaign to unmistakably demonstrate that SAFE Credit YOUnion is focused on your personal financial success," said SAFE Credit Union President and Chief Executive Officer Dave Roughton. "We feel it clearly states our top priority: you come first, and at the same time, we want to celebrate the dynamic diversity of our Greater Sacramento community."
To honor the region and all that we love about Sacramento, the campaign features real Sacramentans in locations iconic to California's Capital Region, including the Tower Bridge, Sutter's Fort and the state Capitol.
Here's a behind-the-scenes look at the video shoots on location. Special thanks to creative genius of Dhon Santos and Brett Barry of production company Douglas Taylor; the attention to detail provided by stylist Simone Vianna; Tina Audisio for the fabulous job on hair and makeup; and the city of Sacramento and California State Parks for letting us shoot around town.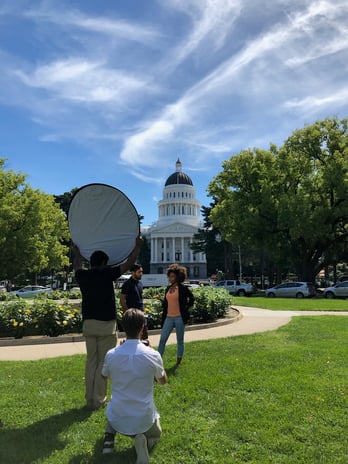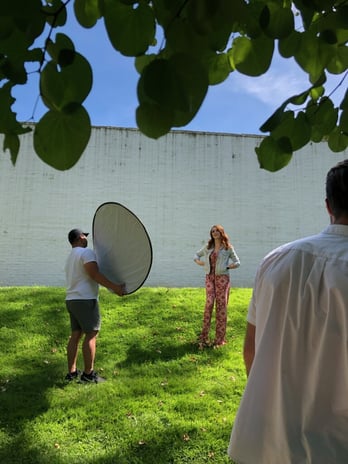 Brantley Payne, un/common partner and creative director, spearheaded the campaign. "We needed this campaign to zag away from other financial institutions while spotlighting the incredible culture of SAFE in a fresh way. In an industry that seems to only care about making money and pleasing shareholders, putting members first isn't just refreshing and bold, at SAFE, it's the truth. This campaign will leave people asking, 'Why have I been settling for anything less?'"
We're excited about this fresh approach to our brand, and we hope you like it too!
If you like it, please share it. But most importantly, we hope you give us the opportunity to put YOU, first.