This is one in a series of blogs based on SAFE Credit Union experts' appearances on Your California Life. Community and Government Relations Manager Amanda Merz shares her insights on how we can work together to support local non-profits in the community. Watch her interview on Your California Life here.
As we move forward, it's so important for businesses, nonprofits, and individuals to work together to help our community thrive. It's true that you can get further and accomplish far more when we pool our resources. We have to get creative in finding ways to lift one another so the entire region rises together.
These solutions can be as simple as businesses teaming up to make a donation to a nonprofit or cause; supporting others through ad and social campaigns; volunteering at nonprofits; and mentoring others. For larger efforts, public-private partnerships can bring businesses and government together to solve some of our region's biggest challenges.
In my role as Community Impact Manager at SAFE Credit Union, I have the honor of working with many dedicated individuals, organizations and government agencies who are all working hard to meet so many needs. A great example is the newly opened St. John's Square. The partnership between the City of Sacramento, several nonprofits and community supporters, created a new transitional housing community. This community has 11 modular homes and will house 55 women and children as they continue their path to independence. Even more significant is the timing; from ideation to completion these homes are move-in ready within one year.
Greatest needs
Quite simply, many of our nonprofits are working very hard to meet people's basic needs of food, shelter, and health, especially mental health. It's been an incredibly stressful year for all of us, and mental health providers are stretched. There are a number of nonprofits working to fill those gaps, but they too are facing an increased number of clients.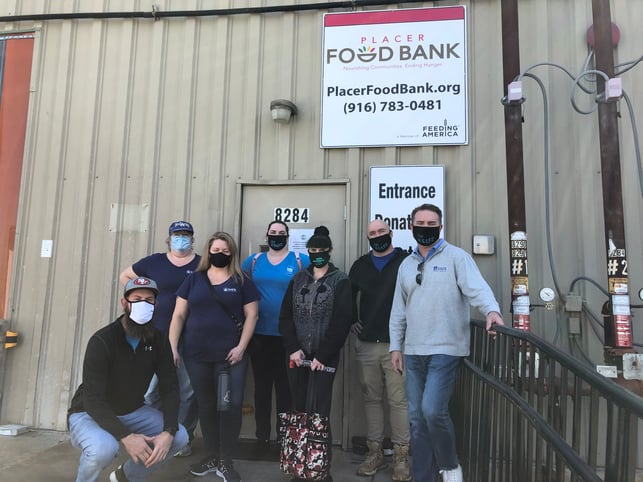 SAFE employees volunteer at regional food banks, including the Placer Food Bank.
Food banks continue to see an increased need for their services. Even with renters' protection in place, we still saw people lose their homes during the pandemic. And more are being priced out of homes and apartments. The good news is there are some wonderful organizations in our community working overtime to help people cover the basics like Sacramento Self Help Housing, WEAVE and the many foodbanks from Sacramento to Placer and Yolo County who have increased food distribution by 40% this past year,
How to make giving easier
One way for nonprofits to maximize their fundraiser is to make donating as easy as possible. In 2020, nonprofits saw about 10 percent of their total fundraising come from online giving. There are so many ways people can donate these days, through peer-to-peer apps like Venmo and PayPal, and online. Also, reach out to businesses to let them know ways their employees can volunteer. Research grant opportunities. Organizations like the Impact Foundry can help nonprofits connect with resources to help them grow.
How businesses can help
The best way businesses can support nonprofits and the community is to get your employees involved. Everyone who works for you has a cause they care about. Untap that energy by setting up volunteer opportunities. Those can be great team building events too! Offer paid time for your staff to volunteer. For instance, SAFE Credit Union gives all employees 16 hours of paid time a year to volunteer. Amplify their generosity by setting up a program to match their donations. And the higher the threshold you'll match, the more engagement you'll get, studies show.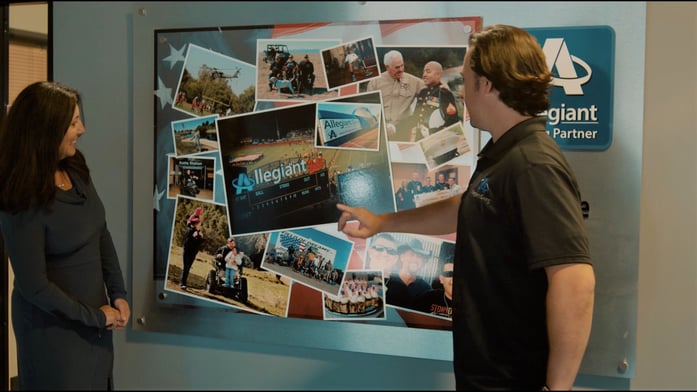 Allegiant is one of the nonprofits SAFE supported with a grant to help it provide educational services to veterans.
SAFE has expanded our philanthropic giving and we're using those funds to amplify programs and services that benefit health, education, and veterans. We've helped college students with gift cards to purchase food; sent volunteers to food banks; and provided more than 3,000 masks to nonprofits so they could safely serve their clientele.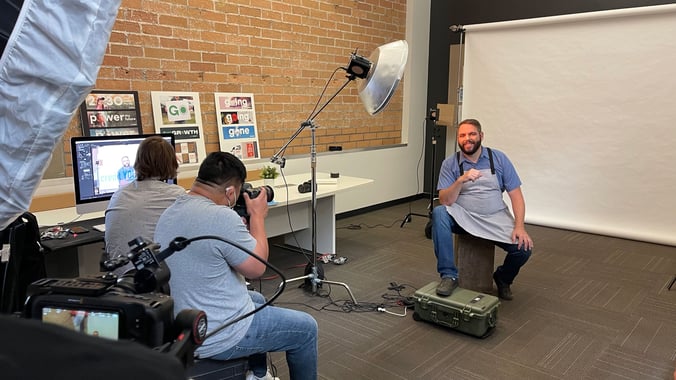 SAFE employees help shoot a commercial featuring a local business owner who is also a SAFE member as part of a campaign to promote local businesses.
Another way we're helping is by showcasing several local small businesses in our latest ad campaign to celebrate their creativity and resiliency over the past year: Nash & Proper; Nubian Family Beauty Supply; Urban Roots Brewery and Smokehouse; and the restaurant Canon.
Financial and mental health
A lot of us experience financial stress. That stress can manifest into real physical illness, including mental strain. When you're financially overwhelmed, it can be hard to focus on anything else. Having a sense of financial well-being is so important for us to be able to enjoy our life. And the good news is you don't need a million bucks to gain financial well-being. It comes down to taking control over your finances. Create a budget. Pay down debt. Put money aside for emergencies.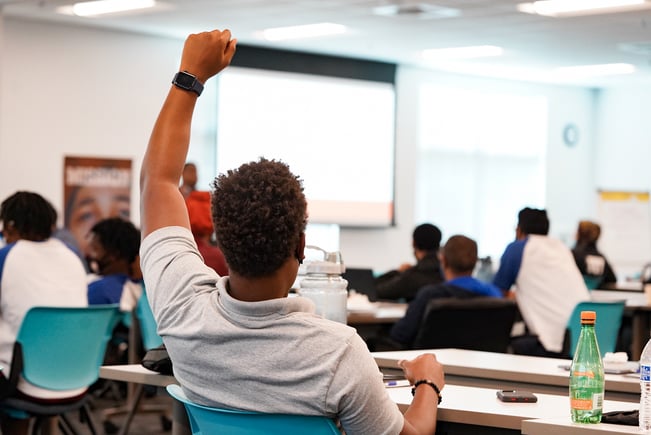 Students participate in SAFE-led financial education sessions during an Improve Your Tomorrow event.
SAFE has a wonderful team of financial educators who offer workshops on all sorts of topics, including home buying, setting up trusts, budgeting, handling your finances in a crisis, and so much more. You can check out the latest at safecu.org./events.
Working together
It's going to take all of us working together to make our region thrive. There are so many talented, dedicated people in our community, and by pooling our gifts, we can lift our neighbors and ourselves. I am excited about the opportunities coming up in the Sacramento area.
Learn more about how SAFE supports our community
SAFE is making a 25-year commitment to the success of downtown Sacramento through the SAFE Credit Union Convention & Performing Arts District.
Through philanthropy, scholarships, and volunteerism, SAFE supports our community in many ways.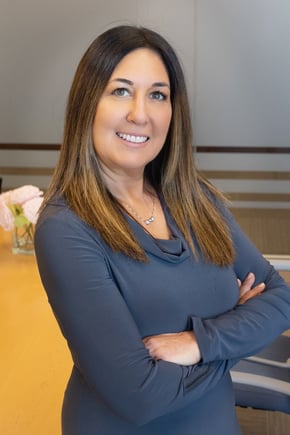 Amanda Merz
Amanda is the Community Impact Manager for SAFE and is responsible for ensuring that the organization's mission to give back is fully realized.