For the vast majority of us, the New Year brings a sense of optimism and positivity – a time to make a fresh start and kick those bad habits to the curb. So, if your unwanted habit of 2017 was overspending, or not saving enough, there's absolutely no better time to get your finances back in check.
To help those of us who may be nursing a "debt hangover" after this year's holiday gift season, we have compiled a list of tips to squeeze a little more out of every dollar, pay off debt sooner, and find some financial peace of mind.
Control expenses by avoiding impulse spending
When you see something you just gotta have – like a high-end espresso machine with auto-grind, a touch screen, and a "precision heat milk texturing indicator system" that was just marked down – remind yourself of two things. 1) You don't drink espresso, and 2) impulse spending is one of the main culprits behind worsening financial health. Sometimes there are deals that seem too good to pass up, but unexpected purchases usually only equate to higher monthly credit card bills and lower cash flow. Simply put, take a moment before restricting your financial freedom, no matter how perfectly that espresso machine would go with your new two-in-one bagel maker/panini press. This New Year, resolve to spend smartly by planning better purchases.
Use a balance transfer to pay down debt
Did you know that a recent LendEdu survey reported that 45% of 500 millennials surveyed didn't know their credit card interest rate? Further, 66.4% said they hadn't considered transferring their balance to pay down their debt. Well, with the Federal Reserve raising its benchmark interest rate a few weeks back, there's a good chance the interest rate you pay every month on your credit card debt may increase by a quarter percent. So, no matter who you are, if you have a balance you're trying to pay off, it may be a good time to take a few moments to research your credit card options. If you've managed your credit well, you may find you qualify for a card that features a lower interest rate than your current card. Better yet, you may even find that better rate comes with a zero-percent-interest introductory period on debt transferred from another credit card. By taking advantage of that offer, more of every dollar you pay will go toward your balance, not the interest.
(At the moment, SAFE has just such an offer on its Platinum Visa® Card.1 Take advantage of the balance transfer option, move your debt over, and attack it! To apply for the card, click here after you read the rest of this blog, of course.)
Learn something new
It's always great to learn a little something new, even if you're long done with school. So, why not invest a little time to learn more on subjects that impact your financial well-being? It can be as simple as subscribing to a personal finance magazine, website, or even checking out blogs that make sense. Another option is to go to your financial institution's website, as many have educational resources that can provide the ins and outs of whatever topic that may be, topical to you. For example, SAFE recently launched its new Financial Fitness Academy – a series of convenient, stress-free interactive online tutorials featuring topics from understanding credit, home loans, planning for retirement, emergency savings, and more! They're free and you're able to explore and learn at your own pace.
Auto refinancing – a little-known secret
Many car owners are unaware of the possibility of increasing their monthly cash flow by refinancing their auto loan. If you qualify, refinancing your favorite set of wheels can be done quickly, easily, and securely – possibly saving you a hefty sum each month. And, over time, those savings add up! Visit safecu.org to see if you qualify to refinance to a better rate and terms, and continue loving your car – and your lower payment!
Consolidating debt or financing a purchase, the smart way
A Home Equity Line of Credit (HELOC) doesn't have to be used to finance home improvements. Imaging this: your oldest daughter comes home from college having found her "one and only" and now it's time to celebrate their wedding in style! Or, you've been dreaming about taking a trip with your kids and grandkids to get closer to your roots in Scotland. You can pay for these once-in-a-lifetime events using the equity in your home with a HELOC.
A HELOC offers funds withdrawal when you need it, and you only make payments on the amount you draw. So, if you're a homeowner, a HELOC is a no-brainer! Plus, SAFE is currently offering waived closing costs2 on HELOCs, so jump on the bandwagon and expand your financial flexibility!
As you can see, committing to smarter money habits usually requires a bit of education, some basic willpower, and some insider information. Hopefully you can stay the course and make real changes in the New Year that will affect your bottom line, positively!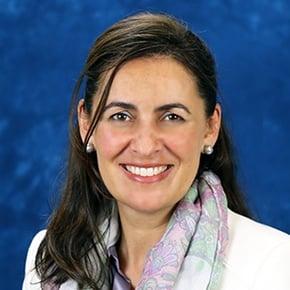 Anca Green
Anca Green is a senior communications specialist at SAFE Credit Union within the marketing department and has focused on writing for much of her career. She's passionate about the creative process and seeing a big picture vision come to fruition. After hours, she enjoys spending time with her two daughters and husband.