Most high school juniors focus more on friends, sports, applying for college, or working an after-school job than they do about personal finance. But as one determined SAFE Credit Union employee shows, that's not always the case.
I recently had the pleasure of talking with my SAFE colleague Maria Rodriguez about how she went from working at one of SAFE's high school branches to becoming a full-time employee at our Sunrise branch in just a few years.
Maria attended the Business Academy at Mesa Verde High School, where she worked at the SAFE Credit Union branch located there. SAFE hosts branches at three high schools in the Greater Sacramento area – Mesa Verde, Rio Linda, and Cordova – where students staff the branches a few hours a week, providing banking services to their fellow students while they gain important job skills.
"It was definitely a valuable experience," Maria says about her time at the Mesa Verde branch. She helped her peers open savings and checking accounts, handled cash transactions, and provided financial literacy insights along the way. Her favorite part? "Helping students deposit money into their savings accounts!" she says.
After her junior year, Maria was accepted into SAFE's summer high school internship program. During this two-week program, participants explore many facets of the credit union. They visit branches, explore various departments at headquarters, and attend a Bite of Reality Fair where they learn more about the financial decisions they'll make as adults through an interactive simulation.
Maria says she loved being a part of the internship program because it "made me realize there was more to the banking world" and she enjoyed getting to experience "something new every day."
Maria said the experience pushed her out of her comfort zone, but she was glad she went through the program because she got to meet students from the other SAFE high school branches and start to build a professional network.
Before starting to work at the high school branch, Maria says, "I didn't even have a bank account. I learned SO much by being a part of the program."
I asked Maria the most valuable financial lesson she learned in the internship program. "The most important thing I learned was during the Bite of Reality Fair," she says, "and that was the hard lesson and value of saving money. I think all high school students should have the opportunity to learn that lesson first-hand."
The Reality Fair "is where I really started to understand what it means to be responsible with money and how I spend it. Now that I'm an adult, it's not just a simulation. It's the real deal!"
Inspired by what she learned at the high school branch and during the internship, Maria says she started talking with her parents about money and had open discussions about important financial issues. "I don't think I would have had those conversations if it hadn't been for the programs at SAFE," she says.
Today, Maria serves SAFE Credit Union members at our Sunrise branch, using what she learned at the high school branch and as an intern as a solid base. Maria says she has developed a much deeper appreciation for the art of budgeting as she saves and creates financial goals to work toward.
The transition from the high school branch to working at the Sunrise branch came easy for Maria. "I knew a couple of employees from working at the high school branch experience, which made it really nice and welcoming coming in as a new employee," she says. "I used to be shy at first but everyone is so welcoming that I'm easing into it as I get more comfortable."
And she has this advice for high-schoolers: "Stop the impulse buying and save for the future!"
I think that's not just a lesson for high schoolers—that's a lesson we could ALL use!
Explore more
Read more about SAFE's high school branches and internship program.
Email our Financial Education team about the Bite of Reality Fairs we're holding in April and learn how to bring the program to your school or nonprofit.
Join the SAFE team! Explore our latest job openings.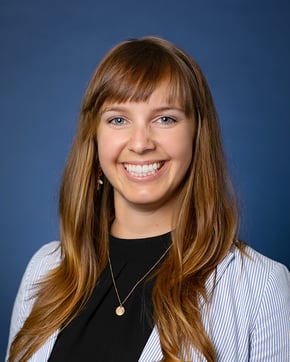 Brit Kelleher
Brit Kelleher is the Community Impact Specialist at SAFE Credit Union on the Community Relations team. She is co-host of Perfect Cents Podcast, SAFE's financial education podcast. She is passionate about financial education, sustainability, and supporting local small businesses to invest in her local Oak Park economy. When not assisting with community engagement initiatives for SAFE, she enjoys taking walks around her neighborhood, petting all the friendly dogs she comes across, and gardening in her backyard.