With Valentine's Day 12 days away, it seems like everyone I talk to is feverishly making plans to celebrate – either with a significant other or their family. And a common theme I'm hearing is "this holiday is so expensive!" Well, my stance is, there are plenty of ways to celebrate V-Day that don't break the bank. You just need to be willing to buck the trend or get crafty. Below are my cost-saving suggestions for a positively LOVEly Cupid's Day.
CELEBRATE WITH YOUR SIGNIFICANT OTHER
Celebrate on an "off" day
There is no rule that Valentine's Day – or any holiday, for that matter – has to be celebrated on the day it officially lands on the calendar. With the holiday falling on a Wednesday this year, consider postponing your dinner reservations a few days to avoid costly pre-fixe menus (that may or may not be your cup of tea). If your favorite restaurant is wise to this money-saving tactic and is offering "specials" on both Feb. 14 and the following weekend, consider a lunch celebration instead. And, if that also fails, move to the next recommendation.
Skip dining out
While going out may be a more relaxing experience, you're paying a premium for not doing the dishes. Find a sitter to take the kids out for a few hours – and, if you celebrate on an "off" day, more sitters will likely be available – and enjoy a candlelit meal at home. Use a tried-and-true recipe you both love and relish a quite house, some good wine, and uninterrupted conversation. That is a gift in itself!
Ask for an alternative to roses
Yes, red roses mean true love … but that doesn't mean you should feel compelled to give (or expect) a $100+ bouquet of red roses that costs significantly less on Feb. 15. A friend in the floral industry once told me that if you're open-minded about the flowers in the arrangement, and don't mind something outside the red/pink palette, a good florist can create a beautiful V-Day bouquet at a much more reasonable price.
CELEBRATE WITH THE KIDDOS
Stick to a $10 gift budget
There seems to be a 50/50 split when it comes to giving small Valentine's gifts to kids. Some parents feel it's totally unnecessary, especially right after the holidays, while others think it's fun. If you're in the "fun" camp, just remember that V-Day gifts don't need to be expensive or elaborate. For example, if your little one loves to read, a book is a great option (my daughter loves Llama Llama, I Love You, which is typically sold for less than $5). If you have a budding baker on your hands, a heart-themed spatula – and a box of cake mix – is another affordable idea. And, if you have an older teen, I don't think you can go wrong with a gift card to their favorite coffee shop that reads "I love you a latte."
Get crafty
Valentines have come a long way since I was a kid. I distinctly remember going to the store with my mom and carefully selecting a box of cards featuring one of my favorite characters – making a concerted effort never to repeat. The next step was choosing a candy to go with the card.
Now, largely in thanks to Pinterest, there are tons of free printable Valentines that are meant to be paired with something other than candy (yay for avoiding cavities!). For example, how cute are these Valentines with Dollar Store bubbles that read "You make my heart pop!"? I also love these glow stick Valentines that says "Valentine, you make my heart glow!". (There also are several Star Wars-themed Valentines where the glow stick stands in for a light saber.) Finally, for older kids, check out this Valentine with a lip balm that states "You're the balm!"
All that said, there are literally thousands of extremely affordable V-Day ideas that can be whipped up in 30 minutes or less. So have a mini brainstorm session with your kid, start printing, and check this task off your to-do list – without putting a big dent in February's budget.
Hopefully these tips will help you enjoy a lower-cost Cupid's Day that doesn't scrimp on fun. And, as always, if you have a great money-saving tip to share, don't hesitate to comment below.
XOXO!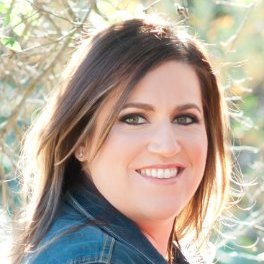 Gina Jacobs
Gina Jacobs loves to write – which is why she's been doing it professionally for more than a decade. As the work team lead of the SAFE Credit Union communications team, she helps shapes all internal and external marketing efforts. She spends her free time chasing after her rambunctious toddler and Shih Tzu. Her husband of seven years also keeps her on her toes.