We're officially in the thick of Halloween season, folks. Pumpkins are starting to appear on my neighbors' porches, spider webs are being artfully arranged on bushes, and a fair number of skeletons are on the scene. I'm starting to get just a tad nervous because – while I already have the Thanksgiving menu loosely strategized – the family costume plan isn't dialed in at all. (If you have any fun, fast-to-throw-together costume ideas for a family of three with a little girl and a white Shih Tzu, let me know).
In my search for costume inspiration, I've come across a lot Halloween safety tips. Many of them are common sense – like checking every single piece of candy after trick-or-treating and being extra cautious when crossing the street – but a few made me say "huh." Below are three of the best out-of-the-box tips I've come across:
Use glow sticks with caution. There is no denying that glow sticks are great at ensuring you and your loved ones are visible as you go house to house, even if you're dressed up as a black cat or bat. But parents should remember that glow sticks are filled with chemicals that can cause eye, nose, and skin irritation if they're cracked open or, worse, burn if ingested. These chemicals can also be harmful for family pets so it's best to only allow your tots to wear or play with glow sticks while supervised.
Test for make-up allergies before the big night. Glittery makeup, fully opaque face paint, and old makeup pulled from the bottom of the dress-up bin seem to be among the worst offenders. To avoid putting a very disappointed (and itchy!) kiddo to bed early, test the make-up you plan to use on the inside of their arm a few days in advance. If there is no reaction, yay! If there is, you have some time to find another option.
Handle dry ice with care. Dry ice can be mesmerizing and really helps set the stage for spookier set-ups. But dry ice exposure is no joke. It should always be handled with care and never touched with bare skin. Also, it can't be stored in unventilated areas like the freezer (this was surprising for me, though totally logical). So, before you add dry ice to your masterfully designed graveyard, make sure you can reasonably keep it a safe distance away from family, friends, guests, and pets.
I hope these less-obvious tips help you and your family enjoy a very fun-filled and safe Halloween. Now, who's ready for some pumpkin pie?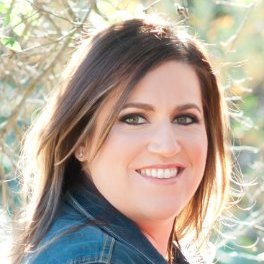 Gina Jacobs
Gina Jacobs loves to write – which is why she's been doing it professionally for more than a decade. As the work team lead of the SAFE Credit Union communications team, she helps shapes all internal and external marketing efforts. She spends her free time chasing after her rambunctious toddler and Shih Tzu. Her husband of seven years also keeps her on her toes.