The holidays always seem to have a way of rushing up on us (or maybe that's just me), but this year I plan to actually honor the promise I made to myself last year: no last-second preparations. So, here are a few recommendations – and one teeny, tiny confession – for those of you who, like me, tend to leave decorating, gift purchasing, and activity planning for the eleventh-hour. Or, if you're a seasoned expert who always dials in early to skip the holiday madness, please share your tips and tricks in the comment section below!
Purchasing gifts
On the one hand, gifts are most certainly not the most important part of the holiday season. On the other, it's a great feeling to give someone a personally picked present they really love. Another great feeling is to shop smart and get something meaningful for all the special people in my life without breaking my budget. To best accomplish this, I've found the most important strategy is to give yourself time – the more of it, the better.
When gift purchasing is left until the last second, it narrows down your selection and your ability to bargain hunt significantly. By contrast, if you make your list in advance and start watching certain items regularly, there's a much better chance you'll spot a price drop and know when to jump at the opportunity. This year, my goal is to have all my presents purchased by the first of November – as an added bonus, I saved my gift-giving list from 2016 to save me time (and hopefully frustration).
Choosing decorations
The first best step to getting in that holiday spirit is putting up the appropriate décor. Purchasing decorative items is always an option, but so is crafting them yourself! I'm not a crafty person by nature but, if you are, then Pinterest is a great place to start. (Seriously, who knew you could make a snowflake sign out of scrap wood, Mod Podge, some newspaper, an airbrush, a stencil, a cordless sander, and a cornucopia of other items a non-crafter like myself will most assuredly not have on-hand). If you are the crafting type, this can be a great way to save money as well as enjoy customized decorations, unique to your household.
If you prefer to shop, there are still fantastic deals to be found. Discount stores often sell tons of festive decorations, many for as low as $0.99. If you get an opportunity to save by purchasing in bulk, consider using the extra pieces as gifts – that's two birds with one stone. You can also buy great decorations on sale after the holidays are over and stash them away for the following year!
Planning activities
Activities may very well be the heart and soul of any gathering (eating absolutely counts as an activity). The best part about activities is they can be as inexpensive or pricey, or as low maintenance or high maintenance as you desire. Here are just a few options that err on the side of budget-friendly and easy to set up!
Candy cane toss: Face two chairs back to back with a few feet of space in between. Tie two lines of ribbon or string parallel between the tops of the two chairs. Have two players (carefully) stand on the chairs and pick one ribbon, then set a 60-second timer and have them race to see who can drop the most candy canes that stay on the line!
Snowball fight: The Greater Sacramento region may not have legitimate snow, but get in the spirit of a snowball fight with this fun game! Place a fish bowl (or any similar object) onto a table, with one player standing on the opposite end trying to bounce a ping pong ball into the bowl. All the other players, however, stand behind the fish bowl and throw cotton balls to knock the ping pong balls out of the way. Set a timer and see if the player can land a ball into the bowl in time!
These games, as well as many others that can be found online, are fantastic ways to have fun without spending extra money. Plus, they don't take up too much time, so the host or hostess can participate. You can even consider offering special prizes – like candies or small knickknacks!
Now, I said I had a (teeny, tiny) confession. Here goes: I don't like the holidays. There, I said it. (If it's any consolation, my coworkers were as horrified as everyone else is when they first found out). However, I do feel the need to explain myself – my apathy toward the holiday season is rooted first in the fact that I was a practical child, and I never could wrap my head around the futility of storing decorations for an entire year and putting them up and taking them down in quick succession. Most importantly, however, I inevitably feel like so many people forget "the reason for the season," as they say. It's not about what you get or when and how you celebrate – it's about who you celebrate with and the memories made along the way.
I swear, I'm not a total Scrooge. I do very much enjoy spending time with my loved ones, and picking out gifts I know they will enjoy – and that's the spirit of this blog, saving you time and money so that when the holidays do roll around, you can enjoy the moment with the people who matter to you.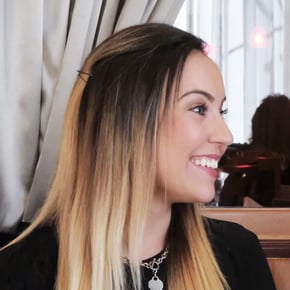 Monica Hower
Monica Hower is a digital content specialist with a background in politics and social media management, and loves all the opportunities to learn and grow in the SAFE marketing department. When she's not writing she's usually talking, and nobody is quite sure what happens when she's not talking.