Ringing in the New Year is definitely an exciting time for everyone – there's the New Year's Eve parties, reconnecting with family and friends, the opportunity for a fresh start, a chance to make big changes, or maybe it's something else. No matter why we're eager to celebrate the start of a brand new year, there always seems to be that feeling of potential in the air that surrounds us all. And, although some people may not be huge fans of the classic "New Year's resolution," I'm a big fan of anything that motivates us to try a little harder and improves our lives and well-being. And yes, picking a New Year's resolution is a great start, but the real magic happens when you stick to it and begin to see returns on your hard work.
So, enjoy these few tips and tricks to sticking to your New Year's resolution – no matter what it is. Who knows, maybe 2018 will be your best year yet!
Start small
No matter what you choose to work on, it's important to remember Rome wasn't built in a day. Whatever your resolution may be – break it into bite-sized pieces. Want to work out more often? Hit the gym twice a week to start. Interested in saving more? Look for just one easy place you can improve your spending habits – no need to go cold-turkey on the Starbucks addiction quite yet. Starting small and working up to your potential can really pay off as a long-game strategy.
Find an accountabilibuddy
You read that right. Using the buddy system isn't just for fifth grade field trips. A buddy with the same goals can be helpful in a variety of different situations (no matter your age). And, no matter what you've selected as your resolution, finding a friend, an online group, or just someone you can share your progress with can be a game changer. An accountabilibuddy will help you stay focused, motivated, and yes, accountable, to reaching your goal – even when it gets difficult.
Don't sweat the setbacks
It's not reasonable to expect to make a huge change without setbacks. In business, there's the saying "fail fast, but learn from it." Give yourself permission to make a mistake or two without beating yourself up. Often times, you can learn a great deal from a slight detour. Just take pride in the milestones accomplished, brush off the dust, and continue on your journey. If you stick with it, you'll have many more wins than missteps over the long haul.
Ask for help when you need it
If you're trying to make important changes in your life, it's alright to seek help when you need it. Going it alone is great for some, but looking to people who have achieved successes in your areas of interest can be very rewarding. Family and friends are (most likely) always ready to lend support for your efforts, but don't be afraid to ask professionals for direction too. Don't be afraid to meet with a financial expert, a doctor, a trainer, or even business leaders who have accomplished likeminded goals. Openly share your objectives and seek counsel if you feel it will help you gain ground on your goal.
Celebrate milestones
One of the best motivations is the feeling of achievement when you've made progress toward your goal. Remember, Rome really wasn't built in a day, so ongoing progress toward your goal should be worth celebrating. Setting achievable milestones that can be celebrated along the way are key components of a personal progress plan. So, commemorate those big moments on your improvement journey, but just make sure not to choose a reward that undoes all your hard work!
That's it! Whatever it is you're planning for in the New Year, we hope these tips – plus some good old fashioned willpower – will help you create a 2018 you can truly be proud of!
Happy New Year!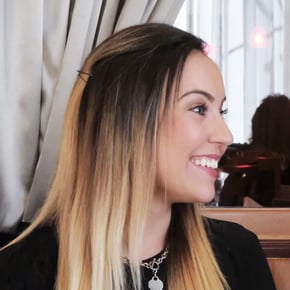 Monica Hower
Monica Hower is a digital content specialist with a background in politics and social media management, and loves all the opportunities to learn and grow in the SAFE marketing department. When she's not writing she's usually talking, and nobody is quite sure what happens when she's not talking.