As a young girl, my daughter was very passionate about stuffed animals. She loved setting up the animals in a circle, teaching them their multiplication tables, serving them tea, and sleeping with them at night. When we went to any toy store, she naturally wanted to look at the stuffed animals and choose another one to add to her collection – 'headstrong' is just one way I would describe her requests to purchase the said stuffed animal, you know, the one that she apparently could not live without.
She obviously had no grasp on the concept of money and was under the belief that people go to the store, pick out what they want, and simply show it to the cashier before taking it home. When we introduced the reality of how money really works, along with the idea of needing to actually save money for the items we want (let's not even get started on retirement), well, it wasn't received without a certain drama.
We've all most likely heard that the sooner we start saving, the more money we'll have when it's time to retire. Still, in so many cases we, adults, don't start soon enough! As a mother, I realized whether my 5-year-old wanted stuffed animals, or my future 20-year-old needed a down payment for a car, it was time to begin teaching the principles of saving. After all, parenthood is all about raising successful adults (even when I don't want to believe they're really growing up) and my husband and I won't always be a safety net.
Although money is not the be-all, end-all of life, it is an essential resource we cannot live without. Here at SAFE, we have come up with some neat ways that make money lessons tangible for kids. Teaching our kids about money can make your life (and theirs) simpler and less stressful – and that's a goal worth sharing!
Include them in the process and talk, talk, talk!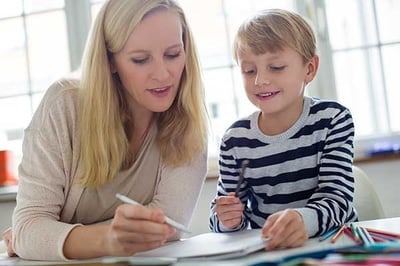 How different could our kids' future be if they understood how to build wealth before they even graduate high school? You can teach them by starting with simple concepts and building on them over time. From an early age, kids will pay much more attention to what you do rather than what you say—and that goes for money matters as well. They need to see how living on a budget, avoiding debt, and consistent investing helps you achieve your financial goals, so make sure you talk to them and include them in the process of budgeting and investing.
Even when your kids come down with a case of the "gimmes" (give me this, give me that), use the opportunity to talk about the importance of saving for the future. Explain that when you're focused on reaching a goal like saving for retirement, you sometimes have to put off or even give up things (a new toy, video game, or computer, for example).
If your kids can understand that "stuff" should never derail their commitment to a long-term goal, they'll be way ahead of most adults when it comes to retirement investing.
Introduce the jar system
In our family, we've had success teaching our children about money through an allowance and a jar system. Here's how it works: We have four jars for each of our children, labeled with their name and the words "spend," "save," "give", and "invest."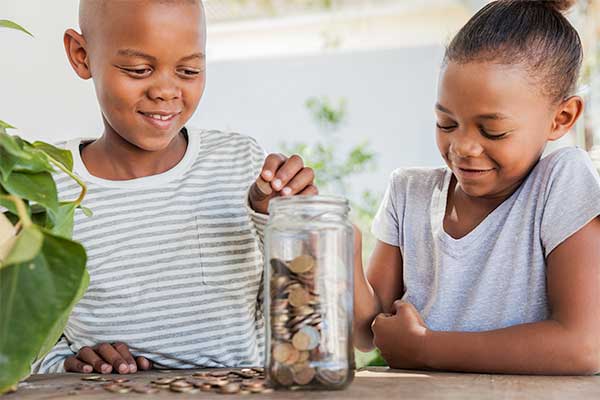 Spend: money that can be spent however they choose
Save: money they're saving for a specific item
Give: money to give to a charity of their choice
Invest: money used to teach about investing
Whenever our kids earned or received money, we would split up the money equally between the jars. And, when we went to the store, we encouraged them to bring their "spend" jar so they could enjoy what they had earned.
Give allowance for chores : the hybrid method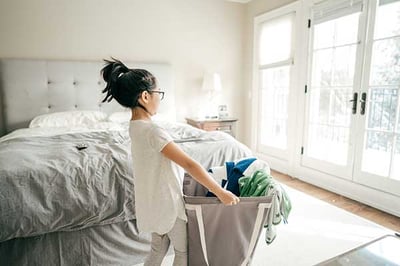 This is the method I, and many other parents, use to teach a number of lessons. As contributing members of the family, my two daughters are expected to do certain chores around the house for free. They can earn money for tackling larger tasks, many of which they can choose, some of which they cannot; the amount each earns depends on the difficulty of the task or how long it takes. This forces us to discuss money each time they take on a larger task.
My daughters do light house and yard work, empty the dishwasher, make their beds, take care of our dogs, and take out the trash – all without pay. For bigger jobs, such as heavy cleaning, a big yard project, or a great deal of housework, they get paid per job. When they want to earn extra cash, they know they can ask me for a job or project, and I can always (always) find something for them to do.
Allow them to spend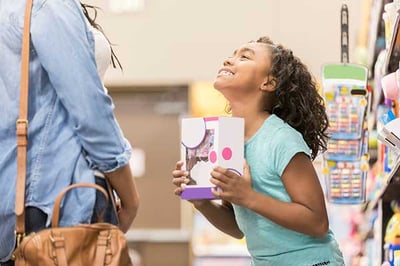 Part of teaching money management is allowing your kids to spend their hard-earned money on something they truly want. Our daughters keep hamsters and as long as they take care of them, it doesn't matter to my husband or me if they want to spend their money on hamster treats or hamster sweaters. Kids also need to learn that work merits rewards, and if they work hard, they can treat themselves as well.
Other ways to teach money habits besides allowance
Giving an allowance isn't the only way to teach your kids about money – and there is no rule that says it can't be fun. You can also teach your kids money management skills by playing board games like Monopoly and The Game of Life. Kids can learn about money and investments, and it provides you with an opportunity to have financial discussions with them in a way that doesn't turn them off or bore them to tears.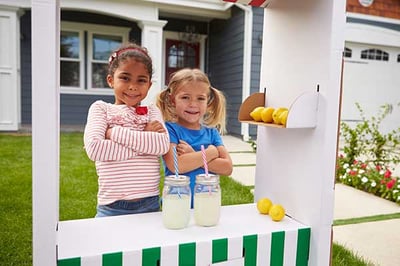 To begin to teach young children and toddlers the value of money, set up a pretend store and show them how to pay for things and how to save for things they can't afford. For our kids, we invited a bunch of their friends over every summer for 3 years. We saved cardboard from packages and bigger purchases like a refrigerator or a TV throughout the year and during the summer, those kids turned the cardboard into storefronts where they sold actual goods. We printed pretend money and the kids were able to use the pretend money to purchase goods the others were selling in their stores. In this way, our kids learned valuable lessons about having money, earning money, saving money, spending money, and losing money. These are lessons that have stuck with them, long after those summers came and went.
One of the most important lessons we've learned from having kids and teaching them about money is that by starting early, our kids developed better habits about money which will have a major impact on their lives as they get older. Communicating with them about budgeting and managing money gave our girls an opportunity to decide how their money is spent or saved. We also talked to them about the dangers of overspending, borrowing too much, or paying high interest; talks that still resonate with them years later.
SAFE encourages you to speak to your kids about money – from the basics to compounding interest, these talks will build trust and increase your kids' comfort level in seeking financial advice. Conversations about money aren't always easy, but they're great long-term investments!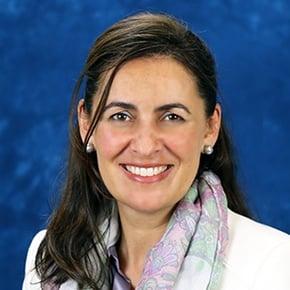 Anca Green
Anca Green is a senior communications specialist at SAFE Credit Union within the marketing department and has focused on writing for much of her career. She's passionate about the creative process and seeing a big picture vision come to fruition. After hours, she enjoys spending time with her two daughters and husband.